[Video] Larry Morris Receives St. Louis Champion Award
Nov. 21, 2019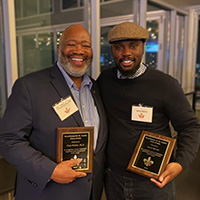 On Nov. 20, Larry Morris, coordinator in the Multicultural Center and International Student Affairs (MCISA) at the Webster University main campus, received a Saint Louis Champion Award during the Hour of Champions reception at Hotel Saint Louis from the Saint Louis Civic Pride Foundation for excellence in Saint Louis Civic Pride.
This award is given to those with great civic pride and who has exceptional involvement and contribution to the St. Louis community.
Morris, born and raised in University City St. Louis, has extensive involvement in the community, particularly in media, arts, and culture. As a Webster alumnus, he graduated with a BA in Audio and MA in Media Communications. As an artist, he created the Illphonics hip hop fusion band as the main vocalist, producer, and songwriter. Media includes providing content for STL TV a St. Louis based TV station.
The Importance of Civic Pride
When asked about the importance of civic pride, Larry expressed: "If you love your home and love the things that are going on here it's infectious it rolls over to the next person. And when people get that energy they start to get involved."
He shared his ideas civic pride of St. Louis by responding: "I think looking at the news people paint this picture of St. Louis as this dark and dire place. Which you'll learn about any place you go whether it's Detroit, Chicago, New York, Houston, there are bad things everywhere. But if you really look at the core of these cities they're really great places because of the people. And St. Louis is at the top of the echelon with that because this city has been through so much and been through so many things."
On civic pride in his hometown St. Louis: "At times, it seems like the things we've been through was ahead of the curve for everybody else. So we're resilient and we know how to deal with things and situations that most other cities are learning to deal with or haven't encountered yet. So I think the tenacity of the people means civic pride comes along with the territory."
tags:  alumni, webster today, mcisa, community engagement, diversity and inclusion, employee news,
News by Topic
Tag Categories
News by Topic
Tag Categories