New Book Explores the Letters Between the Sisters of Loretto and Conrad Hilton
Nov. 19, 2019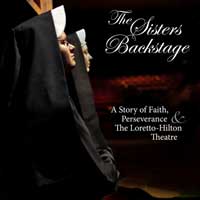 ST. LOUIS - Allen Carl Larson, emeritus professor of music at Webster University, will discuss his new book "The Sisters Backstage," a series of letters exchanged between two Sisters of Loretto and hotel chain tycoon Conrad Hilton, at a December event. The back-and-forth exchanges led to Hilton contributing more than $1.5 million towards the building of the Webster University Loretto-Hilton Center for the Performing Arts.
The event is open to the public and Larson will sign copies of his book.
Larson came across the letters by accident on his first day in St. Louis to start his new job as the Webster University Orchestra director. "I was moving in and I asked a neighbor where to put my packing debris," he said. "He pointed to a large pile of trash in his driveway and said to put it there for pick up the next day. On top of the pile I saw five file folders with Conrad Hilton's name on the tabs." Larson asked permission to take them and the rest was history.
Larson compiled the letters into a book titled "The Sisters Backstage."
"I decided to write the book because of the beautiful use of the English language as seen in the writing of two Sisters of Loretto and by Conrad Hilton," Larson said. "It's a dramatic story of how they, over a period of about three years, convinced him to donate a million and a half dollars to fund the building of the Loretto-Hilton Center for the Performing Arts."
Larson also said he will formally turn the letters over to the archivist to be placed in Webster University's files.
The ceremony will be held in Webster University's Loretto Hilton Center lobby on Dec. 3 from 9 a.m. to 10 a.m., where Larson will say a few words about the book and read a few excerpts. Copies of the book will be available for purchase at the event for $30. Cash or check will be accepted, and all proceeds will be donated to the Sr. Francetta Barberis Scholarship Fund.
tags:  college of arts and sciences, employee news, faculty, home page, webster life, webster today,
News by Topic
Tag Categories
News by Topic
Tag Categories