Merit Student-Recognition Platform Training Sessions March 19, March 27
Mar. 6, 2019
Did your students present academic work at a conference? Have a notable athletic achievement? Win an award? Achieve acceptance into a highly competitive program? These are all examples of great Merit stories!
Webster students do great things every day. To recognize their accomplishments and connect their stories of success to our institution's key stakeholders, the University has implemented the Merit Pages system. Merit builds the reputation of Webster's programs by showcasing the success of our students and delivering these stories to the people who care about them most – their parents, friends, peers and prior mentors.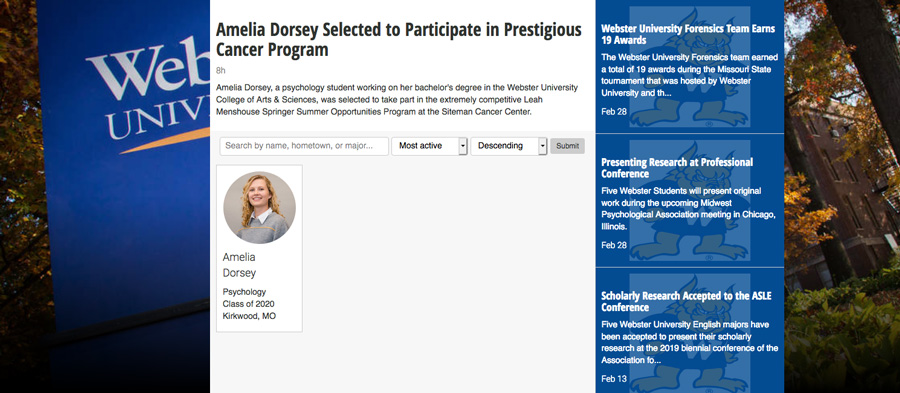 Merit Pages makes it easy to take students' academic success and extracurricular achievements—like making the dean's list, studying abroad, community services, scholarships—and turn them into meaningful content and deliver these stories to local media, elected state representatives, high school principals and counselors, and other key stakeholders. Hundreds of colleges across the country rely on Merit's reputation marketing solution to share these stories.
Information Sessions: Learn how to use Merit for your students
Attend an information session to learn how to use Merit to celebrate your students as they do great things in the classroom, program, clubs and extracurricular activities. Patrick Giblin, director of Public Relations, will demonstrate the Merit system on March 19 and March 27.
A live tutorial is the best way to illustrate how Merit could be implemented by faculty and staff that work with students. Two sessions are available:
Tuesday, March 19, 2-3 p.m. in the East Academic Building, room 102
Wednesday, March 27, 3-4 p.m. in the Faculty Development Center, Library room 420
What is Merit?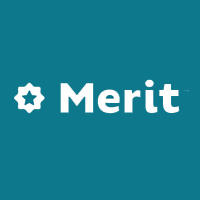 Merit Pages allows the sharing of students' accomplishments through individual pages crafted specifically for each student. Merit gives every one of our students an advantage by creating a positive online presence that tells their whole story, including academic achievements, clubs and activities, work experience, and more.
It is best described as a cross between Facebook and LinkedIn for students, where students can show off their achievements to their family and friends and also build a customized professional page that will help them connect with their first employer after graduation.
Each student can elect to build a Merit page, a verified professional profile that outlines their accomplishments at the University—from research and academic awards to study abroad, volunteer work and co-curricular activities—and can be shared with prospective employers, graduate schools and others. Students don't need to do anything to maintain their Merit pages, but they'll have the ability to enhance them with photos, bios, other activities or work experience. Students may also choose not to participate.
How does it work?
Showing off your students and their accomplishments via Merit is simple. Students will receive a "Merit badge" for their achievements, which can be posted to their individual page and shared on social media. They also can forward the link to their page to family and friends.
Additionally, we can share these accomplishments with the student's hometown newspapers, their high school, and their local government representative. The best part about Merit is that students also can customize their page to reflect clubs and work experience and then forward the link to their page to potential employers.
What are some additional ways to use Merit?
Merit makes it easy to repurpose existing Athletics content into personalized stories about each student-athlete. These stories are delivered right to their former high schools, the sports reporter at their hometown newspapers, state legislators and family and friends. This demonstrates to external stakeholders the full picture of student-athletes and their success.
Every elected state representative in the country has a free Merit account. Every time a student is recognized for an achievement through Merit, it informs that student's local representative of that constituent's success. Through Merit, the elected officials can view and directly congratulate students.
Webster can also forward some achievements to a student's former high school so the school officials can see how successful their alumni are becoming. This helps promote programs to potential students.
tags:  employee news, faculty, webster today, students, academics, athletics, student affairs,
News by Topic
Tag Categories
News by Topic
Tag Categories