New Email Security Feature for Accounts
May. 15, 2019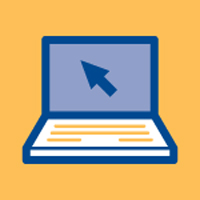 Effective Wednesday evening, May 15, a new email security feature will be implemented for @webster.edu accounts that will make it easier to identify emails that come from outside of the organization by displaying a caution message at the top of the email body.
This message will appear in a yellow banner and reads: "CAUTION: This email originated from outside of the organization. Do not click links or open attachments unless you recognize the sender and know the content is safe." It will be included on any incoming email message from an address that is not part of the @webster.edu domain. Please note there are certain international campuses with separate email systems/domains and this would not apply to those campuses. Incoming messages from those addresses to an @webster.edu address would have this message attached.
Designed to serve as a reminder to exercise caution in daily email communications, especially when opening emails from unknown or external sources, this security feature is part of Information Technology's effort to fight spam and phishing emails. Scammers are becoming more sophisticated in their attempts to impersonate Webster individuals or spoof Webster email addresses for the purposes of fraudulent activity. This message should help to identify many scams like these. Responding to phishing/scam emails severely compromises the security of your account and personal information. This caution message should be a constant reminder to be mindful when clicking on links or opening attachments. These often contain viruses or spoofed versions of web pages to capture login information. Please keep your personal and login information private and secure at all times and never provide these via email.
If you have any questions, please contact the IT Service Desk at support@webster.edu.  
tags:  employee news, webster today, students, information technology,
News by Topic
Tag Categories
News by Topic
Tag Categories