2019-20 Reflective Teaching Community Begins Sept. 6
Sep. 3, 2019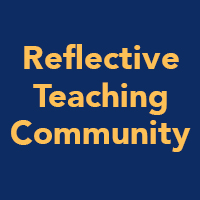 The 2019-20 Reflective Teaching Community (RTC) will hold its first meeting of the year on Friday, Sept. 6, 12-1 p.m. in the Faculty Development Center (FDC) Suite (Library 420).
All full-time and part-time faculty and academic partners are welcome at this monthly gathering to discuss topics in teaching and learning in a supportive environment of like-minded colleagues.
The 2019-20 theme for RTC is "Where is this going? Exploring experiential and place-based learning." This year, we will explore how experiential learning (learning by doing) and place-based learning (engaging students in local to global communities) can enrich and deepen learning for all students.
We will delve into questions such as:
What are the benefits of experiential learning, and how can we use it in our classes?
How can we help our students make connections between what we learn in class and what they'll need to know in their careers?
What local and global opportunities do we create for our students at Webster?
How can we make learning meaningful and relevant for our students, and how can we empower them as self-directed learners?
How can we help underrepresented students access experiential and place-based projects?
What role does inquiry play in creating meaningful learning for our students?
This first session of the year will be facilitated by Karla Armbruster, professor in the Department of English in the College of Arts & Sciences, on the topic "Experiential and Integrative Learning at Webster."
Join us for conversation and a pizza lunch, and please RSVP to Liza Dister, Faculty Development Coordinator, at edister17@webster.edu.
Reflective Teaching Community 2019-20 Schedule
All meetings held in the Faculty Development Center (FDC) Suite, Library 420
Friday, Sept. 6 12-1 p.m.
Topic: Experiential and Integrative Learning at Webster
Facilitator: Karla Armbruster, Professor, Department of English
Friday, Oct. 4, 12-1 p.m.
Topic: Place-Based Education: Implications for Identity and Community
Facilitator: Beth Stroble, University President
Friday, Nov. 1, 12-1 p.m.
Topic: What We Teach Versus What We Say We Teach
Facilitator: Kim Kleinman, Director, Undergraduate Advising
Friday, Dec. 6, 12-1 p.m.
Topic: Global Learning and Underrepresented Students
Facilitators: Emmanuel Balogun, Assistant Professor, Dept. of History, Politics, & International Relations; Danielle MacCartney, Associate Professor, Dept. of Anthropology & Sociology; Kate Parsons, Professor, Dept. of Philosophy
Friday, Feb. 7, 12-1 p.m.
Topic: Experiential Learning Experiences in the Classroom
Facilitator: Jan Palmer, Associate Professor, Dept. of Nursing
Friday, Mar. 6, 12-1 p.m.
Topic: Keeping Students Engaged with Inquiry Methods and Experiential Learning
Facilitator: Eric Goedereis, Associate Professor, Dept. of Psychology
Friday, Apr. 3, 12-1 p.m.
Topic: Helping Students Make Connections Between Course Concepts and Their Career Goals
Facilitator: Melissa Spriggs, Assistant Professor, Human Services
tags:  academics, employee news, faculty, faculty development center, reflective teaching community, webster today,
News by Topic
Tag Categories
News by Topic
Tag Categories