Student Success Portal: Updates, reminders for Spring 2019
Jan. 2, 2019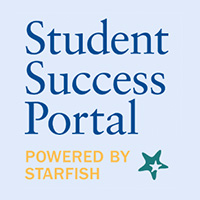 Welcome back for the Spring 2019 semester! The Student Success Portal, powered by Starfish, has now been in full swing at Webster University for just over one year! Thank you to everyone who has engaged with the system, working to create a university-wide centralized notes system, an institutional early alert system, and so much more.
As we enter another semester, enhancements and modifications to the system continue. Below are some updates and reminders that may be of interest.
Starfish Listserv: Join the conversation!
You can join Webster's Starfish listserv (starfish@webster.edu) to learn more about what is going on, share your feedback, ask and answer questions, etc. Add yourself to the listserv or email studentsuccess@webster.edu to request to be added.
Comments now required on student-facing flags and referrals
While many Starfish flags do not route directly to students, there are a handful that do route to students (Academic Performance Alert, Attendance Concern, Low Participation, Low Quiz/Test Scores, Poor/Missing/Incomplete Assignment). Additionally, all referrals in the system also route directly to students.
To clarify this process for instructors and staff who may raise these flags or referrals in the system, comments are now required for these flags and referrals and a template, "Message to student: " has been included to ensure that users are aware that the messages will route to the students can tailor their comments to be student-facing as well as student-friendly.
Download Feature
Breaking news! A new feature has been turned on in the Student Success Portal, powered by Starfish. The Download button (available in the Students > My Students and Students > Tracking menus) allows you to export any student list to an excel spreadsheet. While it is still expected that users work and take actions within the system, this feature will aid many people who use Starfish as a workaround to CARS to get information.
For example, it will be of great assistance to individuals who coordinate the assigning advisor processes for their departments, allowing them to download a list of students in a major who do not have an assigned advisor.
Online Appointment Scheduling Resources
Two new resources have been added to the Student Success Portal website:
Online Appointment Scheduling – Available in the For Faculty or For Advisors & Staff tabs under Getting Started
Scheduling Appointments – Available in the For Students tab under Getting Started
The first document is designed to aid faculty and staff members with the online appointment scheduler, which provides an easy way for students to access and schedule available appointment times with faculty and staff using this feature. The second document provides students with information about the process. The appointment scheduler does interface with Outlook calendars.
Training Requests
The Training section of the website has been updated with relevant information about the various training opportunities available. Training is available by request, and as scheduled training dates are determined, details will be posted on the Student Success Portal website and announced via Webster Today. Many video tutorials and resources are also available in the For Students, For Faculty, and For Advisors & Staff tabs of the website, and overview flyers are accessible in the For Students and For Faculty tabs. Additionally, the FAQs section of the website contains valuable information.
Attendance Verification Pilot
In spring 2019, a pilot will be conducted, using the Student Success Portal, powered by Starfish, to automate the Attendance Verification Process, fondly referred to by many as the "Goldenrod Process." We are hoping to put an end to a paper-and-pencil system that has outlived its usefulness and to replace it by embracing new technology. Instructors participating in this pilot will not report attendance via printed rosters at the conclusion of the drop period. Instead, they will complete an online Attendance Verification Survey in Starfish, similar to the Early Term Progress Survey.
For students who do not attend during the drop period, a flag will be raised, which will route to the Registrar's office for processing, dropping the student from the course due to non-attendance. Students will also receive a message through the Student Success Portal when this flag is raised to inform them of the course drop. This process ensures compliance with federal aid guidelines, and anticipated full implementation is Summer 2019.
Reminder: All active flags, referrals, and kudos are bulk-cleared each semester
At the conclusion of each Fall and Spring semester and the Summer term, any remaining active flags, referrals, and kudos are bulk-cleared by Starfish administrators. Due to the Winter Break, this process was completed Dec. 20 for the Fall 2018 semester.
Looking Ahead
The Spring and Spring 1, 2019, Early Term Progress Survey will launch on Friday, January 25, 2019, and will be available for a 10-day window through Monday, February 4, 2019. All faculty are expected to complete the Early Term Progress Survey within the survey window, even if no concerns are being raised.
The Spring Midterm Progress Survey will launch on Friday, March 8, 2019, and will be available for a 10-day window through Monday, March 18, 2019.
Our goal is 100 percent instructor completion for all progress surveys. Below is a graph of the instructor response rates for the last year's worth of progress surveys.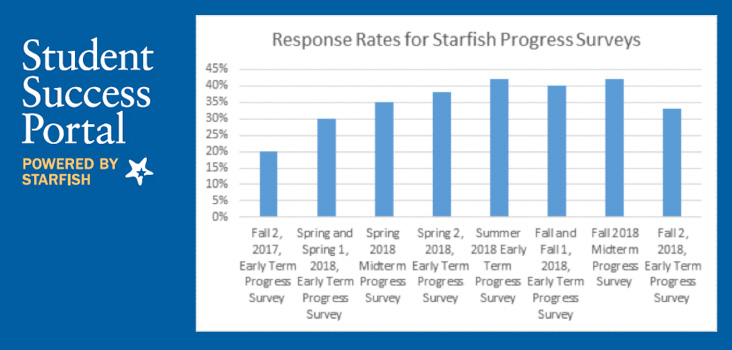 tags:  employee news, faculty, webster today, student success portal, advising, academic affairs,
News by Topic
Tag Categories
News by Topic
Tag Categories