Webster University Promotional Item Giveaway
Jun. 27, 2019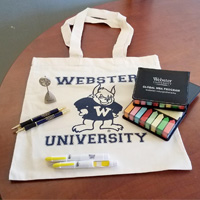 Need pens for prospective students? How about tablets for guest speakers?
Global Marketing & Communications has a number of promotional items that can be used by other departments throughout the University, as well as some fun vintage finds! Available items include: tote bags, calculators, notepads, pens, fans, paperweights and more!

July 23 in LH 402
These items will be available on Tuesday, July 23, from 10 a.m. to noon in Loretto Hall, room 402. These items are free for Webster University staff and faculty.
Many items are boxed and you are welcome to take an entire box but please bring your own bag or dolly so that you are able to carry it back to your office.
Item Categories
To use for promotional purposes

These are tablets, paperweights, pens and other items that reflect current brand standards and can be given out freely.
For personal use

These are items that promote programs that no longer exist or use previous brand standards. They can be taken for personal use at work or home.
tags:  employee news, faculty, webster today, global marketing and communications, ,
News by Topic
Tag Categories
News by Topic
Tag Categories