Webster Professor Consults on the Development of ScriptHop
Sep. 17, 2020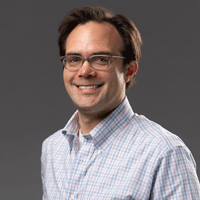 ST. LOUIS - Screenwriters have long dreamed of a software that can allow them to keep control over their work after submitting it. With ScriptHop, there is now a way to do that. And Webster University School of Communications professor Peter Hanrahan had a significant role in making it happen.
Hanrahan said he was recruited to the project by ScriptHop cofounder Scott Foster, former head of the Story Department at United Talent Agency.
"I've provided input and feedback along the way – everything from trying out early versions of the software to helping fine-tune the elegant interface that they've arrived at," Hanrahan said. "I've been able to bring my experience as a screenwriter, story analyst and teacher all together to provide input for the ScriptHop team, helping them to tailor the platform to really meet the needs of a screenwriter."
The ScriptHop software was first developed in 2016 as a library of screenplays, but Hanrahan and others saw its potential to better serve scriptwriters' needs. Hanrahan served as both a consultant on the project and on the Board of Advisors.
"ScriptHop gives screenwriters something they've never had before – control over the presentation and marketing of their screenplay projects," Hanrahan said. "They can upload their scripts and basically build out a whole marketing campaign. It's really a revolutionary platform. There's nothing else like it out there."
According to Hanrahan, ScriptHop is the first truly interactive platform for delivering a screenplay. Using the software, screenwriters can upload their scripts and craft loglines, synopses and character breakdowns, can inject entry points, which allow readers to access specific aspects of the script, and also add other media like photographs, concept and storyboard artwork, and more, he said.
"What's more," he continued, "writers can make a case for the commercial viability of their scripts and tell the story of how their script came to be – its personal connection to them. Very often, a screenwriter might submit his/her work as a PDF via email and then it's gone, poof, into the ether. With ScriptHop, the writer controls how their work is seen, read, and processed. The writer takes the reins."
Hanrahan said that during its beta/testing phase, the program was made available to students in the School of Communications for free. Now that it's officially launched, it's free for everyone. "All students have to do is go to the website and request an invite," he said.
Hanrahan said that he likes the program so much, he's been incorporating it into his screenwriting classes for the past year. "It's an amazing tool to help writers reverse-engineer their projects. Writing up a synopsis and character breakdowns for your own screenplay can really help writers see the forest for the trees and bringing in concept and storyboard art and other media can help them learn how to think about marketing/selling their work," he said. "Because screenwriters not only face the herculean task of writing screenplays, but the equally daunting task of trying to sell those screenplays in a wildly competitive marketplace."
Hanrahan wasn't the only Webster-associated person involved with the project. Recent 2020 Webster graduate Andy Compton had his script, SUPLEX, posted on the site as a demo script, and current Webster student Kayla Oldow provided storyboard artwork for the site's front page.
Compton, who graduated with a BA in Scriptwriting and a minor in Film and Television Production said it has been exciting to watch the project take off. "As an emerging screenwriter, I've learned a little bit about pitch decks, and other materials one should gather when attempting to pitch a film idea. There's no one way of doing it and because of that, it's easy to feel like you're doing it the wrong way," he explained. "But with ScriptHop, there is only one way of doing it, and it's quite easy to use. It eliminates the margin of totally bombing pitch materials."
Compton went on to explain that when a script is uploaded into the system, the A.I breaks it down into several different categories, including scenes, locations, estimated budget, characters, and how many lines they speak, although users have complete control over the AI and can choose to embrace the AI's suggestions or override them.
"Then it allows you to choose up to 4 actors/actresses for each role from their database which holds basically every working actor today," Compton said. "You also upload a logline, synopsis, and a general hook, or why this story needs to be told. Effectively, you end up with everything a producer needs to know about your project all in one convenient place."
Oldow, a FTVP student, said that she had a lot of fun contributing to the ScriptHop project over the summer. "I think Script Hop will be incredibly successful," she said. "I've personally never encountered anything like it in the film world and I think it will stand out and really empower and connect writers and creators."
The new ScriptHop was officially launched last month.
tags:  employee news, school of communications, webster today,
News by Topic
Tag Categories
News by Topic
Tag Categories