Julie Smith and Megan Lynch to Discuss Online Misinformation and How You Can Spot It
Oct. 9, 2020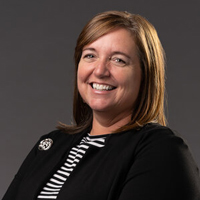 ST. LOUIS - Julie Smith, who teaches media literacy in Webster University's School of Communications has a message for everyone: "You're being lied to."
And at 7 p.m., Oct. 26, she will have an online conversation with KMOX radio personality Megan Lynch about that message as part of Media Literacy Week. The two will discuss how much misinformation is being spread through social media and websites, and how regular viewers can separate the lies from the truth. To register for this free online event, visit alumni.webster.edu/medialitwk.
During the hour-long discussion, Smith and Lynch will discuss ways that people can determine if a rumor or story is true or fake. Smith will share some of her favorite tools that can determine if photos are fake, as well as tips about how to determine if a source is reliable or should be questioned.   
 "The amount of disinformation online is stunning, but what is more alarming is how many people repeat this information and think that it's true," Smith said. "Part of the reason they do it is because much information actually looks legitimate because the people behind it have their own agenda and powerful tools that can help them alter photos and videos or simultaneously repeat the fake stories on multiple accounts in a matter of seconds. People need to be aware of what tools and resources are available that can help them figure out what information is real and what is fake."
 For an example of how misinformation can quickly spread and be accepted as "true," Smith points to a lawsuit regarding the death of Seth Rich, a Democratic National Committee member who was killed in a robbery in 2016. The lawsuit revolves around a rumor started by an anonymous Twitter account that Rich was killed by people close to Hillary Clinton because he allegedly leaked Clinton's e-mails to Wikileaks. That rumor quickly spread across other social media accounts before being published on conservative-leaning websites. Within days, it was broadcast on FOX National News.
Shortly after it became part of the national news cycle, it became apparent that the story was fake. FOX and other media outlets retracted it, but it was too late. Four years later, there are numerous people online – including elected officials – who continually repeat the fake story as if it's the truth.
Smith is the author of the books "Master the Media: How Teaching Media Literacy Can Save our Plugged-In World" and co-author of "Media Literacy: Keys to Interpreting Media." She is a frequent lecturer on social media issues and a popular interview subject in the national media. She is a board member of the National Association for Media Literacy Education.
To register for this free online event, visit alumni.webster.edu/medialitwk.    
For more information about Media Literacy Week, visit medialiteracyweek.us.
For more information on the Webster University School of Communications, visit webster.edu/communications.
tags:  faculty, home page, school of communications, webster today,
News by Topic
Tag Categories
News by Topic
Tag Categories