Webster's Big Love Heads to Cuba
Oct. 13, 2015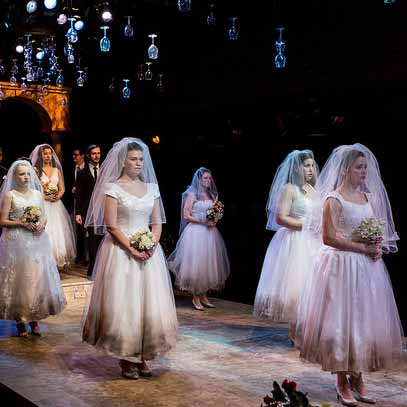 Students from Webster's Conservatory of Theatre Arts will reunite with the University's 2015 Global Leaders in Residence Flora Lauten and Raquel Carrio in Havana, Cuba, when their production of "Big Love" travels to the Havana Theatre Festival this month.
The annual festival brings together professional theatre companies from around the world for nine days of performances, panels, and workshops. This year, a show by Lauten and Carrio's theatre company Teatro Buendia kicks off the festival. Webster's Big Love will run for three performances.
The Webster group making the trip to Cuba includes two faculty members, three student crew members, and 15 student actors – three of whom have graduated from Webster since the show's first run.
The group will spend a week in Havana, arriving the morning of Oct. 19, in time to navigate some of the trickier aspects of mounting a production overseas – including gathering the set and prop pieces which can't be shipped to Cuba – before taking the stage at Teatro Las Carolinas in Old Havana. Big Love will run alongside shows mounted by professional theatre companies from Russia, Spain, Brazil, and elsewhere around the globe. The group leaves Cuba on Oct. 26.
"This is a chance for our students to intersect with fellow artists from around the world, to show their wonderful work to an international audience, and to experience what it is like to make theatre under much less comfortable conditions than we are used to in the US," says Jef Awada, associate professor of Theatre Arts and director of "Big Love."
Senior Webster Conservatory student Kyle Twomey, who plays the role of Giuliano in "Big Love," notes that those "less comfortable conditions" have made preparing for the festival in Havana different from preparing the show's initial run for a few reasons: in the recent weeks leading up to the festival, he notes, the cast and crew "have spent a lot of time learning about Cuba and working through the logistics of not only traveling there, but taking everything we'll need for the show with us. We have to take all sorts of props like fake blood and weapons, our costumes, makeup."
"Reviving a show, regardless of travel, is also a different experience, Twomey says. "We go back to rehearsals… to try to find the show we had a few months back. The rehearsal process will be much faster this time. So we are all expected to show up [in Havana] at performance level, ready to go."
When they're not on stage, the cast and crew of "Big Love" plan to take full advantage of the rest of the theatre festival's offerings.
"There will also be other performances in the festival for us to see and workshops and panels to attend with theatre makers from around the world," Awada says. "[Students] will see performances and encounter ways of thinking about theatre that will force them to consider new possibilities and paths for their careers."
One of the performances on the docket for Webster is Teatro Buendia's festival opener – "Charenton," directed by Lauten and written by Carrio, which adapts Peter Weiss' Marat/Sade (set during the French revolution) to address political revolution in Cuba. Teatro Buendia is known for its productions which dive headfirst into Cuba's history of political turmoil; Awada citesTeatro Buendia as "an amazing inspirational model… for finding the need to make art, to engage an audience, and to promote discussion under very trying circumstances."
"Sometimes for us, in the States, theatre seems like just a game of aesthetics," he adds. "For companies like Buendia, it is about the need to communicate, create, and what they create has a social value that isn't part of our theatre world here."
Plans are in the works for the Big Love cast and crew to reunite with the Global Leaders themselves while in Havana. Their first encounter occurred during Lauten and Carrio's residency at the Webster Groves campus in the spring – a visit made possible through the efforts of Dean Emeritus David Carl Wilson and his wife, adjunct faculty member and casting director Carrie Houk. Wilson and Houk established a relationship with Lauten and Carrio through Houk's work in the international theatre scene, and Houk quickly saw the potential for a Webster partnership benefitting students in both the Conservatory and the College of Arts & Sciences. The partnership materialized through the University's Global Leaders in Residence program.
As part of their engagement with the Webster community as Global Leaders, Lauten and Carrio helped lead a discussion with the Big Love audience after the Conservatory's Feb. 27 performance, and they fell in love with the production. Like many of the plays written and produced by Teatro Buendia, Big Love is based on a classic Greek drama; its themes of love, power, violence, and gender dynamics echo themes that often show up in Lauten and Carrio's work.
"They saw in our work a spirit and a level of professionalism that they compared to the best theatre that they have seen around the world," Awada says.
It's no surprise, then, that upon their return to Cuba, Lauten and Carrio helped facilitate Webster's invitation to participate in Havana's biggest annual celebration of the theatre arts. "I think it's very exciting for the Conservatory to produce a show that sparked interest in reproduction overseas," Twomey says.
"I think that speaks to the level of work we do at the Conservatory and speaks to the commitment of the University to its global name to support us." Awada agrees: "It will be great for our students to see how theatre can be part of the cultural and civic conversation. Obviously, that Cuba is opening up to Americans, or the other way around – it is fantastic to be part of that conversation. We have an email from our contact in the Ministry of Culture in Havana that says they see us as excellent cultural ambassadors. We all feel lucky to be on the leading edge of this change."
tags:  academics, college of arts and sciences, college of fine arts, faculty, global, webster today, home page,
News by Topic
Tag Categories
News by Topic
Tag Categories