Message from the President and Provost on Diversity and Inclusion
Nov. 13, 2015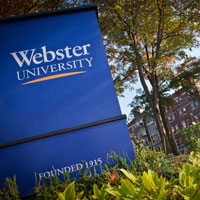 As the national conversation around diversity and inclusion continues, we at Webster University have an opportunity -- and indeed an obligation -- to participate meaningfully in the conversation. There are many great things happening and evolving that demonstrate our commitment to diversity and inclusion within the Webster University community.
Yet, there are always opportunities for expansion. Efforts of equity are continuous. One of our Webster core values, commitment to diversity and inclusion, provides the framework for how we choose to think about this complex topic:
At Webster, diversity and inclusion embraces all human differences while building upon our commonalities as people. Diversity and inclusion initiatives should serve to eliminate discrimination and exclusion based on race, color, creed, national origin, ethnicity, gender, gender identity, sexual orientation, age, socioeconomic status, disability, religion or military status.
This value is incorporated into Webster's operations and culture through a variety of channels that reach all constituents  -  students, staff, faculty, adjunct faculty, alumni, administrators, trustees, donors, funders and community partners.
Over the past few years, we have seen progress in our diversity and inclusion initiatives. We created the Office of Diversity and Inclusion in 2013, appointing Nicole Roach as AVP for Diversity and Inclusion and Community Engagement. This office and position report directly to us to assure that a leadership focus on diversity and inclusion is encouraged and maintained.
This office and our intentional actions throughout Webster have been focused on increasing access and success of all individuals through meaningful conversations, partnerships and actions.
These actions include the Donald Suggs scholarship, now in its third year of providing full-tuition scholarships renewable for up to four years for minority students based on merit and need; a partnership with the Rotary Club of St. Louis that includes 26 scholarships awarded to seniors at St. Louis Public Schools through the Young Citizens program, as well as an on-going investment of $5 million in scholarships offered to 245 minority youth; the Phi Theta Kappa Distinguished Achievement Scholarship for students transferring from community colleges; and the continued growth of the summer TAP program, which aids the transition to college for first-generation and conditionally admitted students.  
On campus, new initiatives for meaningful conversation and understanding include the Webster Staff Alliance partnership with Focus St. Louis to provide the Unconscious Bias workshop series on achieving equity, and the first Common Reading set of articles on the theme of Diversity and Social Justice, created by a committee of faculty and staff to foster yearlong dialogue on these issues inside and outside the classroom.
This week, we invited student leaders to join us in discussion about topics of concern to them. The Association for African American Collegians shared their concerns about issues such as academics; recruitment of a more diverse faculty, staff and student body; retention and graduation rates; scholarships; and Critical Racial Sensitivity training. We will continue to meet and work with these students and others as we move forward.  
Learning and listening must be followed by meaningful intention that ultimately results in meaningful action. Please watch Webster's Diversity and Inclusion website for updates on these important topics:  http://www.webster.edu/diversity-inclusion/
Thank you for your continued commitment to our students and to our collective mission to ensure high-quality learning experiences that transform students for global citizenship and individual excellence.
Beth Stroble
President 
Julian Schuster
Provost, Senior Vice President and Chief Operating Officer
tags:  employee news, faculty, students, global, president, provost, diversity and inclusion, home page, webster today,
News by Topic
Tag Categories
News by Topic
Tag Categories