Message from the President and Provost Regarding Events in France
Nov. 14, 2015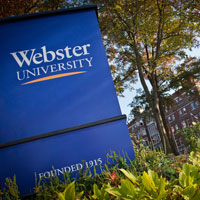 As a mission-driven institution with a commitment to educating global citizens, this past week has been a sobering one. From the unrest in the state of Missouri and across the U.S. regarding race relations to the devastating events reported in France, Webster University's compelling mission is called for now more than ever.
Of course we have Webster University students who study in Europe and frequently travel to France. We are in contact with our European campus directors and have checked on the status of our students there. So far, all students are accounted for, but we will continue to monitor the situation and provide updates in Webster Today.
The news coming out of France is devastating. Yet our resolve as a University committed to diversity, inclusion and helping the world overcome hatred and violence is great.
To this end, Webster is guided by our core values:
Students: By sustaining a personalized approach to education through small classes, close relationships with faculty and staff, and attention to student life.
Learning: By developing educational programs that join theory and practice, provide an international perspective, encourage creativity and scholarship, and foster a lifelong desire to learn and actively serve communities and the world.
Diversity and Inclusion: By creating an environment accessible to individuals of diverse cultures, ages, and socioeconomic backgrounds and instilling in students a respect for diversity and an understanding of their own and others values.
Global Citizenship: By educating a diverse population locally, nationally, and internationally, acting responsibly toward the environment to foster a sustainable future, and strengthening the communities we serve.
We remember Webster's core values and join the world in a resounding call for global peace. This is a time for being generous – generous with thoughts and words that bind us together in peaceful dialogue. Peaceful dialogue, learning and listening must be followed by meaningful intention that ultimately results in meaningful action. Please watch Webster's Diversity and Inclusion website for updates on these important topics: www.webster.edu/diversity.
Beth Stroble 
President
Julian Z. Schuster 
Provost, Senior Vice President and Chief Operating Officer
tags:  extended campus, global, home page, president, provost, webster today,
News by Topic
Tag Categories
News by Topic
Tag Categories