Webster's 'Big Love' Production Enjoys Success in Cuba
Nov. 5, 2015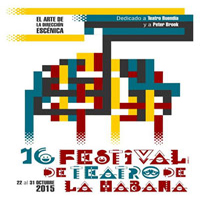 After spending a week in Havana, Cuba, at the Havana Theatre Festival reviving their production of "Big Love," students, faculty and alumni from the Webster University Conservatory of Theatre Arts are back in the United States.

"I keep trying to imagine a better trip and I can't," said Jef Awada, associate professor of Theatre Arts and "Big Love" director.

Awada attended the festival along with assistant professor Gad Guterman, three crewmembers and 15 actors. They were invited as special guests of Flora Lauten and Raquel Carrio, the University's 2015 Global Leaders in Residence in the College of Arts & Sciences. The group performed "Big Love," which was previously performed in March at the Loretto-Hilton Center for the Performing Arts.  

They performed the play at the Teatro Las Carolinas in Old Havana for three nights. Awada said that while the performances went very well, the team faced some unique challenges in setting up the show, but that the experience was educational for all of them.

"We needed a bathtub for the show – it was tough to find that here in St. Louis – so it was a real challenge in Havana," said Awada. "We found one but it didn't hold water. In the first moment of the show, the lead gets into the bathtub and takes a bath. To solve that problem we decided to fill the entire bathtub with flowers and our actor took a bath in flowers."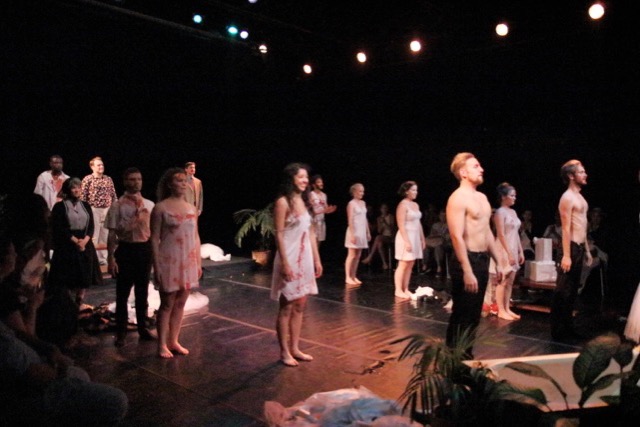 Paige Seber graduated in May of 2015 with a BFA in lighting design. She worked on the show when it was performed in St. Louis and said that while the experience was hectic, she was grateful to be able to travel to Cuba with the rest of the "Big Love" cast and crew.

"Before we arrived in Havana, communication with the theatre was limited to email and was made more difficult by the fact that I don't speak Spanish very well," said Seber. "I was unable to get a full understanding of the theatre and the equipment until we were standing in the space in the heart of Old Havana. So it was really more like putting a show together in a few days rather than weeks. The team at the theatre and our company were all so understanding and so helpful, we were able to successfully make the vision that Jef and I created a reality."

Sigrid Wise, a junior in the Conservatory, performed the role of Olympia in the show. She said that despite the challenges, she is grateful for the experience.

"It was all life-changing," said Wise. "I had never traveled to another country before this trip, so finding out that I was going to be able to go to Cuba with some of my best friends in a show that brought me such immense joy was unreal."

Seber agreed that all of the challenges were worth it.

"This is an experience I will cherish forever," said Seber. "Almost anyone we met, whether it be at the festival, our hotel, or just on the street, was willing to sit down and share an espresso and tell us about Havana or hear about our show. We made friends everywhere we went."

Awada said that they felt welcomed by the people of Havana.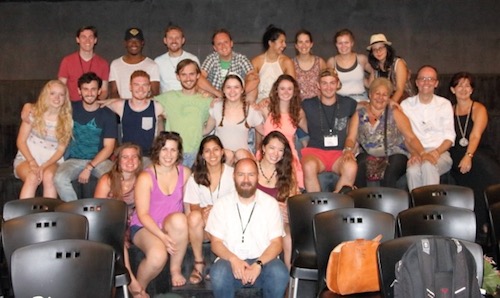 "The first night, it was almost full and it was probably seating about 200 people," said Awada. "The following two nights it was packed with people on the floor and the response was just amazing. People really really loved it. I had one very gentle old man come up to me after the show and ask if I was the director and he told me how he loved reading American and English literature and how he'd never seen a play performed entirely in English before. He thought the show was so beautiful he wanted to come back the next night and bring his son."

The play received a great deal of media in advance of the performances and positive reviews. Awada said he enjoyed watching everyone experience Havana professionally and personally.

"It worked on so many levels for our students in not only presenting their work as artists but also on a personal level," said Awada. "They were lauded for their technique and their precision and also interacted with a culture, not just as tourists, but as team members."

Awada hopes this is the beginning of an ongoing relationship between Webster University and the Havana Ministry of Culture. The relationship was initially facilitated through the efforts of Dean Emeritus David Carl Wilson and his wife, adjunct faculty member and casting director Carrie Houk, who led the University's efforts to bring Lauten and Carrio to Webster Groves as Global Leaders in Residence for the College of Arts & Sciences. It was through their residency that Lauten and Carrio first connected with Awada and the cast and crew of Big Love; the Global Leaders returned to Havana eager to see Big Love on Cuban soil. Now it looks like Big Love is just the beginning.

"There is a real hunger there and a real willingness to continue this collaboration," said Awada. "We met with the director of theatre at the Ministry of Culture who said 'Now is the time for you to go home and dream about how we can continue this connection' and we hope to do that. This was kind of a perfect opportunity so we're going to have to work very hard to make opportunities like this possible in the future. But I believe it is possible."
tags:  alumni, college of fine arts, faculty, featured, global, home page, webster today,
News by Topic
Tag Categories
News by Topic
Tag Categories