Webster to Host International Education Delegation
Jul. 29, 2015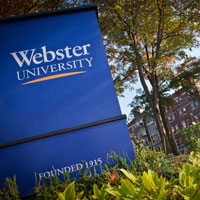 ST. LOUIS - The U.S. Department of State, in partnership with the Institute of International Education (IIE) and Saint Louis University, will welcome 15 government and higher education officials from seven countries to St. Louis for the Education USA Campus Internationalization: U.S. Graduate Education Leadership Institute July 28 through Aug. 8. This visit is part of larger three-city visit by 42 government officials from 19 countries to explore U.S. higher education, international education and public-private partnerships in education as part of the State Department's EducationUSA Leadership Institutes.
As part of the visit, Webster University will host a discussion of Webster University's unique global infrastructure and its comprehensive online programs on Aug. 6. The visitors are government and educational representatives from Bangladesh, Botswana, Colombia (South America), Georgia, Pakistan, Russia and Thailand.
"Webster University has a long history of providing education to students around the world," said Nancy Hellerud, vice provost.  "Our network of international campuses, study abroad programs, and other global initiatives would not be as successful without collaboration and partnership with colleagues from international institutes of higher education and government agencies.  We look forward to meeting with the visiting officials to learn more about education in their countries and share information about Webster's network of campuses and programs."
Hellerud will present the overview of Webster University with Michael Cottam, associate vice president of the Online Learning Center.
During the visit to St. Louis, Saint Louis University will play host to the visitors. Besides discussions on the SLU campus and the visit to Webster University, the government representatives will visit the campuses of Washington University and the University of Missouri-St. Louis, and will engage in several cultural activities, from seeing a Cardinal's game to visiting Forest Park, the Gateway Arch and the Delmar Loop.
Besides St. Louis, the U.S. Department of State said two other organizations will host similar educational gatherings;
StudyColorado will host the Industry-Private Sector Linkages & Innovation: Energy Sector Partnerships Leadership Institute in Denver, CO to provide 12 participants with an opportunity to explore the collaboration between higher education and the energy sector, while focusing on workforce development, research and development, and curricular reform.
The University of Illinois at Urbana-Champaign will host the Campus Internationalization: Institutional Structures to Support Inbound and Outbound Student Mobility Leadership Institute in Champaign, IL to advise 14 participants on building capacity in sending domestic students overseas and receiving foreign students for short-term study and full degree programs.
The EducationUSA Leadership Institutes are a component of the State Department's EducationUSA network of hundreds of advising centers around the world that provide prospective international students with accurate, current, and comprehensive information about U.S. higher education while supporting U.S. colleges' and universities' international student recruitment efforts. 
With its home campus in St. Louis, Missouri, USA, Webster University (www.webster.edu) comprises an action-oriented global network of faculty, staff, students and alumni who forge powerful bonds with each other and with their communities around the globe. Founded in 1915, Webster is a private non-profit university with almost 20,000 students studying at campus locations in North America, Europe, Asia and Africa and in a robust learning environment online. The university is committed to delivering high-quality learning experiences that transform students for global citizenship and individual excellence.
tags:  academics, global, home page, provost, webster today,
News by Topic
Tag Categories
News by Topic
Tag Categories