Neuroscience, Economics, Gaming and More: Faculty Present Research in Vienna Lecture Series
Oct. 2, 2015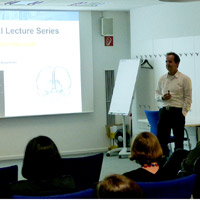 The Inaugural Lecture Series kicked off this week at Webster Vienna, enabling students, faculty and peers to witness research in action as presented by Webster faculty members.
The first presentation was from Peter Walla, head of the psychology department at Webster Vienna, who discussed his recently published research with neuroscience technology in a talk called "If My Brain Could Only Speak."
Other planned talks in the series from Webster Vienna faculty include:
Pernille Eskerod, professor of Business and Management, "Change Agents at Work – Reflecting upon Change Leadership"
Juraj Bohus, visiting associate professor, Media Communications, "Game Design and Interactive Cinema"
Nikolaos Antonakakis, associate professor of economics, Business and Management, "The Impact of Fiscal Austerity on Suicide Mortality: Evidence across the 'Eurozone Periphery'"
Nada Mumdziev, assistant professor, Business and Management, "How Are Cultural and Developmental Differences Affecting International Chains?"
Bradley Wiggins, associate professor and department head, Media Communications, "Crimea River – Internet Memes as a Genre of Online Communication (amidst the Russia-Ukraine Conflict)"
Neuroscience Measurements and Self-Reporting
More details on Walla's recently published paper on his brain imaging study can be found in this Webster Vienna story.
From Walla's description of his presentation:
"The Neuroscience toolbox allows us to watch the brain at work. This gives us some access to non-conscious information processing that otherwise stays hidden below the awareness threshold.
"Long ago, the idea arose that the human mind has a non-conscious component that strongly influences our behavior. Today, we realize how important it is to utilize modern neuroscience technology to look inside the brain in order to better understand and predict human behavior and also to fix it in case it goes wrong.
"We start to realize for example how different our own actual deep inner affect can be from our conscious opinion about it. Various discrepancies between self-report and objective measurement have been described highlighting that some crucial processes in our brains cannot be verbalized and yet even therapies are designed on the basis of self-report and various decisions are made on the basis of filled-in questionnaires.
"If our brains could only speak, it would make things easier. However, Neuroscience does open the doors to the non-conscious."
tags:  academics, college of arts and sciences, faculty, global, webster today, school of business and technology, school of communications, vienna,
News by Topic
Tag Categories
News by Topic
Tag Categories