Webster Grad Circles the Globe in an Electric Car
Nov. 16, 2016
ST. LOUIS - When Carolina Bianchi graduated from Webster University at its Geneva, Switzerland, campus in 2015 with a degree in media communications and a minor in psychology, she hoped to land a job in the world of motorsports. So when the opportunity to drive around the world in an electric vehicle and write about the experience presented itself, she jumped at the chance.
For 80 days, Bianchi drove through 20 countries on three continents, logged 29,000 kilometers (about 15,500 miles), dodged tornadoes, had a gun pulled on her by a truck driver, and navigated highways that were "roads" in name only.
And she would do it all again, she said.
"I love travelling, seeing the world, discovering new places, meeting new people, trying new food. I love being open to the planet," Bianchi said. "I love how we are all so different, yet all are the same. We are all human beings."
Bianchi has an Austrian passport but lived most of her life in Italy. She attended Webster's Vienna and Geneva campuses and earned her bachelor's in May, 2015 from the School of Communications and her minor from the College of Arts & Sciences. "I appreciated how international the University was," Bianchi said. "There were students from all over the world, and the curriculum reflected the global community."
Shortly after graduation, she and her father, Federico Bianchi, met Rafael de Mestre, the organizer of 80edays. Mestre made news several years ago when he drove a Tesla around the world in 127 days, and he was now challenging people to drive an electric car around the world in 80 days in an homage to the character Phileas Fogg in Jules Vernes' classic novel "Around the World in 80 Days."
Bianchi and her father were the two members of "Team Italia." They both shared driving duties. Bianchi acted as the photographer and communications manager and her father was the captain.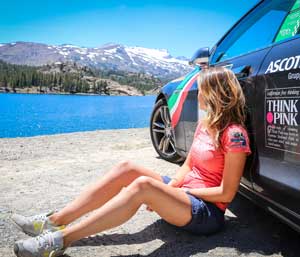 Nine other teams also signed up, representing China, USA, Spain, Czech Republic, Austria, two teams from Germany, and two teams from Switzerland. All drove Teslas except for the team from China, which drove a Denza, an electric car made in China. The teams agreed to follow pre-set routes and to have their vehicles flown across the Atlantic and Pacific oceans, when they reached the end of a continent.
The expedition launched in Barcelona, Spain, on June 16. Bianchi and the team averaged 300 to 650 kilometers per day (about 200 to 400 miles per day). Since a Tesla's average range is about 400 kilometers, one of the challenges was finding places to recharge their car. In Europe and the eastern coast of China, this was easy, Bianchi said, as all had access to plugs that were compatible with the Tesla "Supercharger," the quick charging kit. Using those plugs, a car could be recharged in less than an hour.
"But inland of China, Kazakhstan and Russia we had to ask the hotels and petrol stations if they had plugs, or use electricity poles we found on our way," Bianchi said. "It was a lot about putting all the cables together, mounting the adapters and connecting it to the electricity source. Although the United States is well adopted with Superchargers, the European Teslas cannot charge there because of the 3-phase charging versus the US 1-phase charging, meaning that we had to direct ourselves to camping places for power."
She added that Kazakhstan was particularly difficult because the roads were in terrible condition, with thousands of potholes that were six inches or deeper. "It came to a point where we were driving 30km/h (18 miles per hour) for long distances in order not to break our car."
While the scarred roads of western Asia were challenging, the scariest moment of the trip happened in the heart of the United States.
On June 29, the team was between Kansas City and Denver when their air conditioning system broke down. The day was hot and humid, so the team found a shady spot behind a parked semi-truck. One of the German teams also pulled in to help with repairs.
After a few moments, the driver of the semi-truck exited his vehicle, pulled out a handgun, pointed it at the team members and yelled at them to get out of the area. "Extremely frightened and trembling, the front parts of the car were quickly put back together and we escaped immediately," Bianchi said.
Then the day got worse. With 60 miles to go to Denver, all of their cell phones alerted them to an emergency – "Tornado spotted in the area. Seek shelter immediately."
"We could see dark, thick black clouds headed our way. With difficulty, we managed to find a gas station that had a tornado shelter, but all the sheltered parking areas were already full with other cars. Torrential rain, extreme winds, hail and heavy rains that flooded the streets followed. After 45 minutes the storm was over and we continued our journey towards Denver, still pale due to the shock of all the events of the day."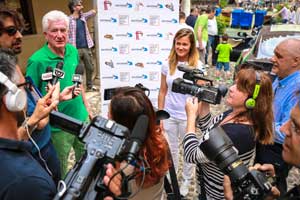 When they weren't dodging tornados or running from emotionally unstable truck drivers, much of their non-driving time was spent talking to groups of people along the way about sustainable driving. Other stops included a tour of the Tesla factory in Fremont, California, several sustainability events in China and Bucharest, and a reception organized by His Royal Highness Prince Albert of Monte-Carlo.

The team finished the trip on Sept. 4 in Barcelona, taking exactly 80 days.
Since then Bianchi has enrolled in graduate school in sports management. But she would like to try a similar trip in the near future, preferably one around the southern hemisphere, through Australia, New Zealand, South America and Africa.
"I would like to raise awareness of how we can all make the world a better place," she said. "If we all were more aware of this and put just a tiny bit of effort into spreading peace and trying to understand each other, global warming, wars and other planetary crises would not be so frequent."
To see her daily dispatches and more photos of the trip, visit the team's Facebook page at https://www.facebook.com/80edaysteamitalia/.
To learn more about the 80edays challenge, including seeing a map of the route used by the vehicles on the challenge, visit http://80diaselectricos.com/. 
tags:  alumni, college of arts and sciences, featured, home page, school of communications, webster life, webster today,
News by Topic
Tag Categories
News by Topic
Tag Categories