Webster Athens Participates in International Scientific Conference
Oct. 27, 2016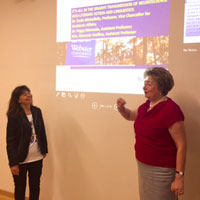 Webster Athens participated in and presented papers at the International Scientific Conference, "eRA-11," which is annually held in September on the premises of Piraeus University of Applied Sciences, in Piraeus, Greece.
The conference was a collaborative effort of international researchers, scholars, educators and students whose input was invaluable, further encouraging each other to work harder so as to offer more to technological evolution and social progress.
The conference was dedicated to Aristotle-philosopher and scientist, since in 2016 UNESCO celebrates the 2,400th anniversary from the philosopher's birth as "Aristotle Anniversary Year." The program of the conference included presentations in the fields of Science, Economy, Technology, and Education as well as the work and valuable contributions of many young researchers.
Among the presenters in the Education section were Suzie Michailidis and Tom Mazarakis, who spoke on the issue of leadership in ancient Greece and its transcendent value in our contemporary society.
The paper from Michailidis, Peggy Manouka and Giannoula Vasiliou rested on the investigation that relates literature and language to the organization, structure, and workings of the human brain. Empirical discoveries about brain structure and function suggest ways that "naturalistic" programs might develop in detail, beyond the abstract philosophical considerations in their favor. Manouka analyzed the concepts of neuroscience and  neuroaesthetics in the understanding and appreciation of a literary work, and Vasiliou focused on neurolinguistics, the capacity and activity of the brain in second language learning as well as on the brain benefits of second language learning.
"Let's do more as dedication and collaboration in education yield progress," said chancellor and managing director of Webster Athens, Vasilis J. Botopoulos.
tags:  academics, college of arts and sciences, global, webster today, athens,
News by Topic
Tag Categories
News by Topic
Tag Categories