Arts and Sciences Summer Immersive Study Options
Feb. 5, 2016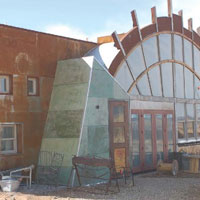 The College of Arts and Sciences offers a variety of immersive study opportunities this Summer 2016 for undergraduate and graduate students. Students will have the chance to earn college credit while spending the summer exploring such faraway places as Europe and Africa, or "off the grid" in New Mexico.
These programs offer unique opportunities for immersion and include organized excursions and co-curricular activities that enhance what students learn in the classroom. 
Are you a student, or do you know a student who has thought about studying overseas but haven't found time in a rigorous college schedule to dedicate an entire semester abroad? Ever wanted to gain an international experience but thought it might be too costly? A short-term summer study abroad program may be your perfect solution. 
Learn more about Study Abroad options and assistance -- including upcoming deadlines -- from the Office of Study Abroad.
For further details regarding the College of Arts & Sciences Summer study abroad opportunities, click on the links below:
Summer Term in Ghana [PDF]
For an unforgettable experience, spend eight weeks in Ghana studying subject matter that relates to the social, political and humanitarian forces shaping West Africa. Participate in excursions and visits to organizations and other co-curricular activities that enhance your understanding of the actors and challenges facing this burgeoning country. 
Qualifying students may also be eligible for free round trip airfare!
Legal Studies Short-Term Hybrid Programs in Leiden, the Netherlands
Peacemaking in the Hague and International Issues related to Women and Children are courses offered. Spend a week (or two) in the picturesque town of Leiden visiting the international and nongovernmental organizations and individuals that work on these issues in the Hague, the international law capital of the world.  
Learn about 'Off the Grid Living' and Travel to Taos, New Mexico
Students will experience first-hand an "off the grid" community in New Mexico while learning about sustainable living.  
Four Weeks in Florence, Italy!
This June, professor of philosophy and dean emeritus David Carl Wilson will be teaching a course in the classical city of Florence at Webster's study abroad partner, Kent State Florence Summer Institute.
tags:  academics, college of arts and sciences, students, study abroad, global, webster today,
News by Topic
Tag Categories
News by Topic
Tag Categories