We Are All Webster: On Building Community and Choosing Inclusion at Fall Convocation 2016
Aug. 19, 2016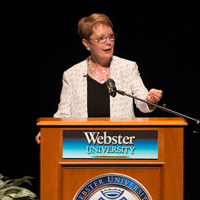 With global tragedies affecting so many of the communities that Webster University calls home, at Fall Convocation President Elizabeth (Beth) J. Stroble spoke of the ways in which the Webster community can "embrace inclusion and commit to a shared identity, a shared heritage, and a shared future."
In the annual fall address, delivered at the Webster Groves campus and streamed live and recorded for the worldwide community, she reflected on recent events and discussions she's had with colleagues and community partners -- from Asia to Athens to right down the street in Webster Groves -- on the themes of community and identity, diversity and inclusion, and stigma and bias.
"From the time I first arrived at Webster, I found that our lack of mobility limits our knowledge of Webster and like all shortcuts of knowledge, can lead to negative biases about the value of what we do not know and positive biases about the value of what we do know," Stroble said. "That is, incidentally, why it is strategically important for more of us and more of our students to increase our mobility as a way to make our home in the world, whether the world of Webster or the broader world. 
"The limitation of what we know in turn limits our ability to succeed at Webster and to collectively succeed as Webster."
Julian Schuster, the provost, senior vice president and chief operating officer who normally joins Stroble in speaking at convocations, could not be present, as he is spending the week at the Pentagon's Joint Civilian Orientation Conference Program. He recorded a video greeting [see full video below] that shed more light on that prestigious program, which will help better understand military students, a large part of Webster's graduate student constituency.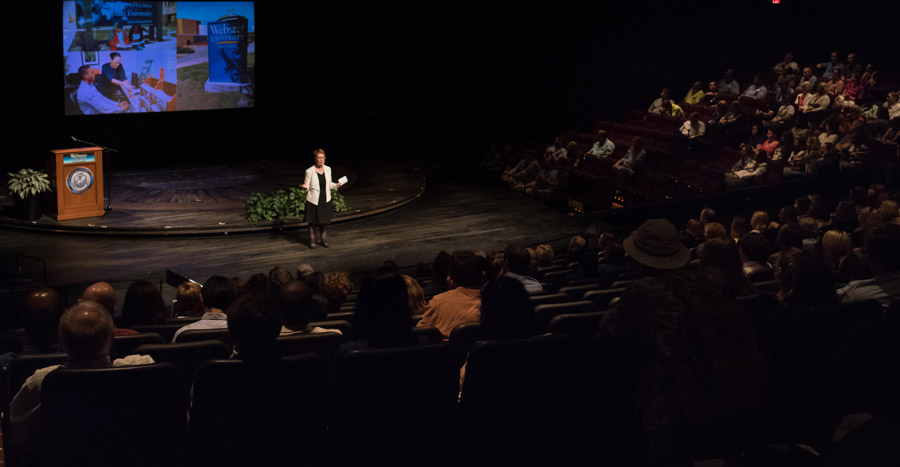 While the geographically broad and demographically diverse Webster network poses its own challenges to building an inclusive community, those same attributes create unique opportunities that only Webster can claim.
"With greater intention to include, to build community, it is my belief that we will gain more knowledge of each other, greater respect for the diversity of our experiences, thoughts, and perspectives," she said.  
And that is why Webster's strategic plan, Global Impact for the Next Century, "focuses on just such themes and activities—innovating through inclusive leadership, assuring the global mobility and diversity of our students and ourselves, designing student experiences for action-oriented learning, and strengthening our collaboration across disciplines and campus locations, to use a few examples," she said.
"The benefits of a Webster education need to be inclusively excellent—transformative and highly impactful for all students."
Full Speech and Further Reading
See the text of the speech along with several reading references here. See a video below or at this link:
tags:  employee news, extended campus, faculty, global, president, provost, home page, webster life, webster today,
News by Topic
Tag Categories
News by Topic
Tag Categories