Cybersecurity Program Launches in Europe
Mar. 3, 2016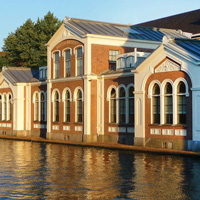 ST. LOUIS – Webster University's popular Cybersecurity program will be offered at two of its European campuses starting in fall 2016. The master's program will be offered at Webster University's Leiden campus and a certificate program will be offered at the Vienna campus. Applications for both programs are being accepted now.
The Cybersecurity Program is offered through the George Herbert Walker School of Business and Technology. It was launched in Colorado Springs in 2014 and since has expanded to Webster's locations in St. Louis, Kansas, the Washington D.C. region and Orlando. The program is one of the fastest-growing majors at Webster University.
"Cybersecurity threats do not respect borders, and this issue affects everyone who has an online presence, regardless of nationality. A hacker in Russia can use a compromised server in Central America to launch an attack on a bank in Europe," said Tom Johnson, the interim dean of the Walker School, associate vice president and chief of Strategic Initiatives and the primary architect of the University's Cybersecurity program. "With the dramatic rise in global cybercrime, we have seen Cybersecurity become one of the fastest-growing fields in the world today, a demand we do not expect to see diminish anytime soon as our communities continue to become more interconnected online."
The master's program is a two-year program that prepare students and professionals for demanding positions in public and private sectors overseeing, operating or protecting critical computer systems, information, networks, infrastructures and communications networks from cyber crime, cyber fraud and cyber espionage. An in-depth knowledge of computer infrastructure is not required in order to be accepted to the program. The certificate program is intended to give students a broad overview of cybersecurity issues and tactics. Students will be introduced to cybersecurity networks, policies and laws on digital security and the basics of threat detection.
"As our lives are increasingly digitalized, we are all becoming more vulnerable to cyber-crime.  No longer can data-security remain the exclusive concern of IT-specialists.  Whether you run a small business or work at a large organization, knowing how to protect sensitive data has become vital management know-how," said Christian Newman, head of the Business and Management Department at Webster Vienna. "Webster Vienna Private University is therefore proud to offer a compact certificate program designed to bring the business community up to speed in cyber-security threat detection.  This internationally successful and innovative program is one of the first of its kind in Central Europe."
According to a recent report by the labor-market analytics firm Burning Glass Technologies postings for cybersecurity jobs have grown 74 percent since 2007. In 2013 alone, the report said, there were more than 200,000 postings nationally for cybersecurity jobs, with an average salary of $93,028. That's more than $15,000 higher than other IT positions as a whole. And because the number of qualified candidates for these cybersecurity jobs far lags the number of open positions, these postings tend to remain open much longer than other IT jobs, according to the Burning Glass Technologies report.
Webster's new master's degree program in cybersecurity was established in 2014 to help fill a staggering demand for cybersecurity training in the Colorado Springs area. The U.S. Air Force Space Command approached Webster to create the program because it has 1,400 employees who need training in cybersecurity.
To request more information about the program, or learn more about how to apply, visit www.webster.edu/masters/cybersecurity.html.
With its home campus in St. Louis, Missouri, USA, Webster University (www.webster.edu) comprises an action-oriented global network of faculty, staff, students and alumni who forge powerful bonds with each other and with their communities around the globe. Founded in 1915, Webster is a private non-profit university with more than 17,000 students studying at campus locations in North America, Europe, Asia and Africa and in a robust learning environment online. The university is committed to delivering high-quality learning experiences that transform students for global citizenship and individual excellence.
tags:  academics, global, home page, strategic plan, school of business and technology, webster today,
News by Topic
Tag Categories
News by Topic
Tag Categories