Students, Faculty Mark Completion of Global MA Program in Vienna
Jul. 20, 2016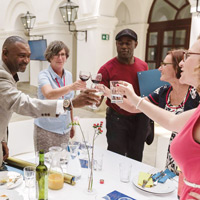 On Monday, July 11, the 2016 class of students celebrated their completion of Webster University's Global Masters of Arts in International Relations and Global Masters of Arts in International Non-Governmental Organizations programs at a luncheon at the Palais Wenkheim, home of Webster's Vienna campus. 
Head of the program Amanda Rosen and worldwide director of International Relations Kelly-Kate Pease joined the International Relations faculty and staff of the Vienna campus to congratulate the students and toast their achievements.
Five students in the program—Henry Abimbola, Marie D'Avignon, Karen Hariss, Amanda Lindsey, and Rohan Quow—were on hand to receive their certificates of completion.
Unique Student Experience in Webster's Global Network
Students in the Global MA program complete their master's degree in 11 months, traveling every eight weeks to a new campus or location in the Webster system. This year, students studied in Vienna, Leiden, Geneva, London, Bangkok, Beijing, Havana and Washington, D.C. 
Throughout their course of study they learn the core theories, systems, and methodologies of international relations and apply them to issues of global importance, such as terrorism, energy security, economics, refugees, climate change, and foreign policy.
The 2017 class of the GMA program launches this August, with cohorts traveling to Webster campuses in Athens, Greece, and Accra, Ghana, for the first time.
Share This Story:
tags:  academics, college of arts and sciences, faculty, global, global ma, international relations, home page, webster life, webster today,
News by Topic
Tag Categories
News by Topic
Tag Categories