Nominate a Student for Webster 2017 Global Student Leadership Summit in Vienna
Nov. 7, 2016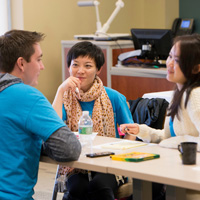 Consider nominating a student for this fantastic opportunity Webster University's Global Student Leadership Summit 2017.
The Summit will be held June 7-10, 2017, at the Webster Vienna campus in Vienna, Austria. For selected participants, the University will arrange for and cover the costs of airfare from their home campus, lodging, meals, and program fees. 
To nominate a student leader for the 2017 Summit, send an email by Nov. 30 to Ted Hoef, associate vice president for Student Affairs and dean of Students at hoeftl@webster.edu.
The nominated student will receive a letter from Hoef to inform them of your nomination, while providing a special invitation to apply for this prestigious opportunity.
We're looking for a phenomenal group of approximately 30 student leaders from throughout the worldwide network to participate in this world-class leadership development experience. Our goal is to have a diverse cohort of students with strong leadership potential and the ability to work collaboratively across difference.
The Summit will provide a unique opportunity for Webster University student leaders to gain knowledge and skills, and create positive change in a global environment. By developing relationships with peers from throughout Webster's global network, participants will gain a better understanding of the impact student involvement has on students and Webster University worldwide. 
Activities and Impact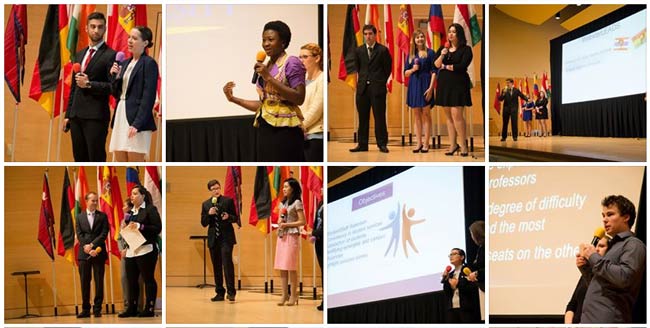 The first Global Student Leadership Summit was held in St. Louis in March 2015 and left a lasting impact on the students who participated, with many calling it a "transformative" and "invigorating" experience that helped "make meaningful connections around the globe." 
The 2017 Summit will include interactive sessions focused on leadership development, communication, intercultural competency, and social responsibility, plus an excursion in Vienna, and outstanding networking with fellow students from throughout the Webster global network. Students will work in small groups with an assigned mentor to help achieve the learning outcomes. To prepare for the Summit, all participants will complete an online non-credit course from March-May 2017.
As a result of attending the 2017 Summit, student leaders will return to their home campus prepared to work collaboratively with their fellow students to increase the level of leadership involvement and enhance connections between students throughout the Webster global network. The Summit is a transformational experience that will further develop each student's sense of mission and purpose.
For more information about the Global Student Leadership Summit, including the GSLS Learning Outcomes, visit the summit page in Webster's Campus Life section.
Selection Process
The selection process will include:
a review of the applications and recommendations
an interview held on the student's home campus
Applicants must:
Plan to be enrolled at their home campus from August 2017 through May 2018
Be in good academic and judicial standing
How To Apply
Applicants must be enrolled at one of the following campuses who have committed to sending students to the Summit:
Webster main campus in Webster Groves
Webster Thailand
Webster Leiden
Webster Geneva
Webster Ghana
Webster Vienna
Applicants should apply here.
Reactions From Past Global Summit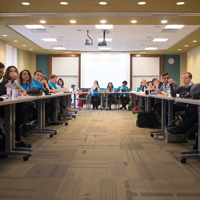 "Amazing things can happen when you bring talented people together," said one student who participated in 2015.
Some other reactions:
"The GSLS motivated me and sharpened my leadership skills which gave me more courage and confidence to address a large group. In addition, it gave me a sense of belonging and understanding on what it means to be a global student of Webster."   - Marjorie Peters-Beltman, Leiden
"GSLS was essentially a hands-on crash course in effective leading and teamwork. We spent almost every waking hour with our group, putting time and effort in listening to each other, debating points about our initiatives, and most importantly, figuring out what each of our strengths and weaknesses were. Not only was it an introspective exercise, it also showed me how great it is when everyone in a group feels like they're contributing their best to a project."  - Joy Corthesy, Geneva
"The GSLS Summit in St. Louis was the spark which really kicked off the SGA's activities here in Vienna. Motivated by the Webster environment in St. Louis, the four Vienna participants got together even before heading back and developed a strategy on how to engage more with students and serve their interests better. SGA in Vienna has grown by over 30 percent in participation and we've nearly doubled our events per semester."   - Dennis Heumann, Vienna
tags:  academics, faculty, global, webster life, webster today,
News by Topic
Tag Categories
News by Topic
Tag Categories