Resources to Help International Students Succeed in the Classroom
Jan. 21, 2016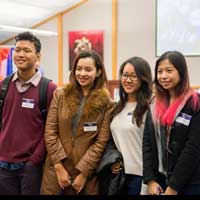 Webster University's St. Louis campus became home to students from many nations this spring. We welcome the diversity and alternative points of view they bring to our classes. For most of the students, English is their second (or third, or fourth) language. While many come to Webster fully proficient in English, others may struggle with the demands of learning in a second language full-time.

If you have a student that you feel is struggling with your course due to language or cultural issues, please take the time to contact one of the following people:
All of these staffers work closely with international students and the International Student Success Committee to help direct students who are having difficulties to the resources they need to be successful learners at Webster.
Please contact us if you have any questions about your international students. We would also be willing to come speak to individual professors or departments about specific techniques for teaching multilingual, multicultural students.



tags:  global, webster today, mcisa, international students,
News by Topic
Tag Categories
News by Topic
Tag Categories