Kaiser Concludes Fulbright Scholars Grant in Uruguay
Jul. 8, 2016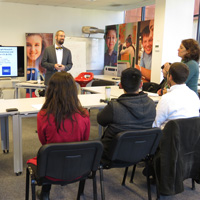 DJ Kaiser, associate professor and coordinator of Teaching English as a Second Language, recently completed his Fulbright activities in Uruguay. His research focused on Ceibal en Inglés, a project that uses videoconference to help teach English in public schools all over Uruguay using remote teachers.
He finished his three-month project with a presentation to team members from Ceibal en Inglés, the British Council, and from Uruguay's Ministry of Education (ANEP-CODICEN) at the Laboratorio Tecnológico del Uruguay (LATU) in Montevideo.  During this presentation, he summarized many strengths in the project and provided some recommendations based on classroom observations and interviews conducted in 12 different schools with 15 different public school teachers.

In total, Kaiser observed more than 100 class sessions throughout Uruguay in both primary and secondary schools. After spending time in southern, eastern, northern, and western Uruguay, he finished his research observations in the central city of Durazno. In addition to observations for research at schools that use videoconference to help teach English, he had opportunities to observe in a rural school, a school in a smaller town, a school that teaches English without videoconference, English classes in a pre-school, and an English class at a private school.

His visit in Durazno received a lot of attention in the local media. He started his two weeks in Durazno with a radio interview and an appearance as an invited guest on Canal 6's Mediodía Juntos. The television interview was followed up with a newspaper article in Durazno's paper El Acontecer. Midway through his stay in Durazno, he had another radio interview on Radio Yi.

Over his three months in Uruguay, Kaiser had the opportunity to meet more people involved in English language teaching and many current and past participants of Fulbright exchanges. While his official research involved six of the 19 departments in Uruguay, additional visits and excursions with Fulbright connections resulted in him visiting 12 of the departments.

"It was an amazing experience to learn about the diverse experiences of public school teachers all over a country and in such a short period of time," Kaiser said. "Many assumptions that I had going into this project were challenged and I have been left with new perspectives that will change me professionally and personally. It was a unique opportunity to share three months of research with some primary stakeholders for an entire country. I am certain that observations and recommendations I was able to share will lead to changes to further strengthen English language instruction in the public schools throughout the country."

Currently, Kaiser is in Rio de Janeiro on a Faculty Research Grant where he is observing classes in two projects by Sequoia Foundation's EnglishWorks that make use of videoconference in teaching English. His observations will take him to about a dozen of Rio's poorer neighborhoods to visit Naves do Conhecimento that provide free English classes for adults and a new project providing free English classes to youths in centers for the project Casa Futuro Agora. In mid-July he will travel to Brazil's capital, Brasilia, to present on his current research on Videoconference Assisted Language Learning at the BRAZ-TESOL conference.

 
tags:  academics, employee news, school of education, tesol, global,
News by Topic
Tag Categories
News by Topic
Tag Categories