Message from the President and Provost on Massacre in Orlando
Jun. 13, 2016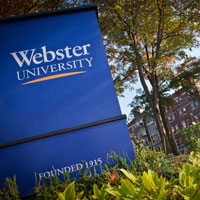 To the Webster University Community:
All of us were horrified by the news in Orlando this weekend, the worst mass shooting in American history. Our thoughts immediately turned to our colleagues in Orlando, where Webster this month opened its new campus downtown as a partner investing in the exciting future of that community, and to our colleagues around the world in the LGBTQ community, which was targeted in this senseless attack.
We are in contact with directors in Florida to check on the safety and well-being of our students, faculty, staff and alumni. Our counseling faculty are working with other local organizations to offer services to anyone in the central Florida region who is grieving or needs to talk, as our people seek to aid the community in its healing.
Indeed, tragic losses of life and violence like this -- whether in St. Louis, France or elsewhere -- call us to be there for our colleagues around the globe. This week we are in Greece as this year's Global Leadership Academy cohort gathers for a week of sessions with our Athens colleagues. Discussion and reflections of Orlando naturally came up in the GLA transformative leadership panel with President Stroble and two ambassadors to Greece, Ioseb Nanobashvili of Georgia and Lucian Fatu of Romania. 
As Ambassador Nanobashivili said during the panel, "Institutions like Webster University feed us ideas to help us solve global problems." We should take those words to heart. Human connections help us see the way forward through moments like this.
As a global University community committed to diversity and inclusion as well as global citizenship – two of Webster's core values – we are surrounded by opportunities to make such human connections, which can bring people together as we seek to be part of the solution, with a belief that tolerance and understanding can prevail over violence and hatred.
Webster University stands with Orlando.
Elizabeth (Beth) J. Stroble 
President
Julian Z. Schuster 
Provost, Senior Vice President and Chief Operating Officer
tags:  employee news, extended campus, global, home page, president, provost, webster today,
News by Topic
Tag Categories
News by Topic
Tag Categories