Webster to Send Students to Oxford Brookes for Study Abroad
Mar. 10, 2016
Webster University will send students to Oxford beginning in the fall 2016 semester. They will attend Oxford Brookes University, a 150-year-old institution of higher education. 
Webster University is committed to the nationwide effort by Generation Study Abroad and the Institute of International Education (IIE) to double the number of students studying abroad by 2020. Oxford Brookes gives students an exceptional study abroad destination.
As one of the world's great student cities, Oxford is a great place to live and study -- large enough to offer something for people of all interests, yet small enough to feel welcoming and accessible. Located in the heart of England and about 50 miles west of London, Oxford is a beautiful city with a rich cultural history.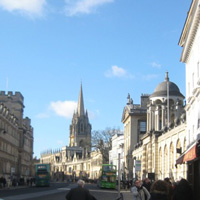 Although tracing its founding more than 150 years, today Oxford Brookes University (OBU) is a vibrant, modern university that attracts international students from more than 130 different countries worldwide.
More than 3,000 students from around the world choose to study at Oxford Brookes every year and they continue to value the academic and cultural contributions that students make to the university. 
Oxford Brookes has been recognized as the leading modern university in the United Kingdom for the tenth year running. OBU is internationally recognized for its high quality, innovative teaching and learning methods. 
Study Abroad at Webster University
At Webster University, approximately 20 percent of each graduating class of undergraduate students has had at least one study abroad experience. Webster has been nationally ranked and featured in articles in national newspapers for its study abroad program, including in Time Magazine in 2015, which recognized Webster University for its residential campuses located in multiple countries. LifeHack.org also named Webster one of the 11 most unique universities in the nation, citing its strong study abroad opportunities for students and its multiple locations around the globe.
For more information about the new study abroad destination in Oxford, please contact the Office of Study Abroad at worldview@webster.edu.
tags:  academics, global, study abroad, oxford, oxford brookes, london, webster today,
News by Topic
Tag Categories
News by Topic
Tag Categories