Stroble Represents Webster at ACE, NAPAHE Conferences
Apr. 4, 2016
President, Elizabeth (Beth) J. Stroble represented Webster University at the annual American Council on Education (ACE) meeting held in San Francisco in March.
Now in its 98th year, the ACE event is known as a premier higher education event, bringing together nearly 2,000 higher education leaders, thought leaders, and news-makers discussing the most pressing issues of the day.
Stroble served as a panelist and presidential facilitator at the Institute for New Presidents session. Stoble, recognized nationally for her social media leadership, presented alongside University of Cincinnati President Santa J. Ono (also recognized for his social media leadership) on a panel regarding how to use social media in a manner that engages audiences and moves institutions forward.
Stroble said being authentic in social media channels is key for new presidents. "Advising colleagues new to the presidency about their use of social media is an invigorating conversation," Stroble said. "They have tremendous opportunity to engage with internal and external campus communities in ways that reflect their signatures as presidents as well as to open multiple communications channels." 
At NAPAHE Discussing Higher Ed Landscape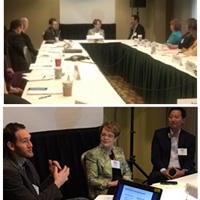 The ACE conference is held in tandem with the National Association of Presidential Assistants in Higher Education (NAPAHE) conference where Stroble also joined panel discussions.
Moderated by Doug Lederman of Inside Higher Ed, Stroble was joined on the 2016 Plenary Panel "Progressive Leadership: Meeting 21st Century Challenges and Strengthening the Promise of Higher Education" by colleagues as they discussed a framework and ideas for helping college campuses flourish in times of change.
"I was honored to join fellow presidents to discuss the changes in the higher education landscape and how best to navigate those challenges with our campus colleagues," Stroble added. "Leadership at all levels will make the difference in advancing an institution's mission in challenging times."
tags:  academics, partnerships, employee news, global, president, webster today,
News by Topic
Tag Categories
News by Topic
Tag Categories