Thailand International Relations Scholars Collaborate with Calcutta University
Feb. 26, 2016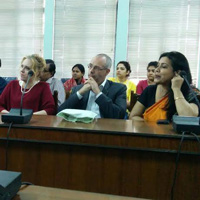 Academics from the international relations program at Webster University Thailand traveled to Kolkata, India, to participate in a two-day collaborative event with scholars from Calcutta University that stems from a memorandum of understanding (MOU) reached between Webster and Calcutta in 2015.
The "Regional Dynamics in Asia" event held Feb. 15-16 is an effort to bring together active researchers in the Asia Pacific to explore various aspects of regional politics.  
It marked the formal beginning of a joint effort by the scholars to undertake research into various aspects of regional integration, interstate interdependence and transnational politics. A reciprocal conference event will be hosted in Thailand in fall 2016 to present research findings and prepare for finalization of the project for publication.
Notable speakers arranged for the event included Krishnan Srinivasan, former Indian Foreign Secretary, and Sunanda K Datta-Ray, the eminent Indian scholar and journalist who reported for Indian media on Southeast Asia and internationally. The event was also attended by the current vice chancellor of Calcutta University, Sugata Marjit.
The working sessions began with two papers. The first was presented by Calcutta professor Chakroborty from the Institute of Foreign Policy Studies on the subject of the "Concept of the Civilizational State in the Context of Asia." His paper traversed a stimulating area of discussion and is expected to be developed further by November's event in Thailand.
A second paper by Kenneth Houston, head of the department for College of Arts & Sciences programs at Webster Thailand, and Webster student Richa Neog, considered the role of regional level initiatives to fund track three grassroots organizations and initiatives in the context of regional interdependence in both ASEAN and SAARC.
On day two, Rachael Rudolph, Webster faculty member, presented her ongoing analysis, jointly authored by two Webster Thailand international relations students (Nishant Upadhyay and Nhan Tran), into transnational crime and its relevance to India's Look/Acting East policy, with specific reference to the insurgency and trafficking in India's north east. Fellow panelist Lipi Ghosh of Calcutta University explored the theme of connectivities between the regions of South and Southeast Asia. 
On the second half of day two a three-part panel considered a broad diversity of subject areas. Madhurima Chowdhury's paper examined the regional dimension of education policy in India and Thailand and their connection to Human Rights syllabi and courses. Hari Vasudevan discussed the question of challenges to development planning in Asia. Finally, Webster Thailand's Roland Loechli considered the highly topical issue of maritime competition and cooperation in the Indo-Pacific region.
Further Collaboration in IR, Buddhist Studies
The collaboration now enters its second phase. Webster University Thailand will now host an event later in 2016 in Bangkok, which will give all the scholars involved an opportunity to present their ongoing research progress and findings. The goal is then publication, the groundwork for which was charted out at a special meeting of the contributing faculty in Kolkata at the tail end of the conference last week.
The MOU between Webster University Thailand and Calcutta University was signed in Kolkata in February last year by Suranjan Das, then the vice chancellor for Calcutta University, and Thailand director Ratish Thakur. Additional parts of the MOU call for forging additional links with Calcutta University in the areas of Buddhist Studies, under the auspices of Claudio Cicuzza and the Department of Buddhist Studies recently established at Calcutta.
This ongoing and evolving project represents a significant collaborative effort by both institutions.
tags:  academics, college of arts and sciences, thailand, bangkok, international relations, faculty, global, webster today,
News by Topic
Tag Categories
News by Topic
Tag Categories