Bangkok Career Fair Conntects Webster Thailand Students with Companies, Opportunities
Dec. 1, 2016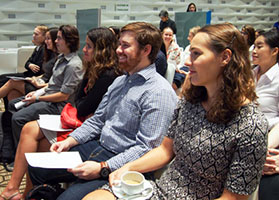 Webster University Thailand held a Career and Internship Fair at Empire Tower in Bangkok on Nov. 30. The event attracted numerous students, both graduate and undergraduate, from across a number of different disciplines. Students had an opportunity to interact with Thailand's leading companies for both internships and management trainee programs.
At the event, numerous participating companies from across the hospitality, NGO and financial sectors. Companies included: UNICEF, Oxfam, Asylum Access, Greenpeace, Spa-Hakuhodo, Asia City Media Group, Nielsen, Standard Chartered Bank, Soneva Resorts, Crowne Plaza Hotel, Dean & Deluca, AYC, Euro Center Insurance, Vivin, Food Panda and SoHo Hospitality.
In an effort to prepare students for their meetings with potential future employers, a resume writing workshop was held at the Bangkok Academic Center. This workshop, managed by Career Planning and Development Center Manager Tim Malloy, provided students with a chance to refine their resumes and to better understand the needs and expectations of employers. As many students were quite new to this environment, interview preparation advice was also offered. 
The staff and students of Webster Thailand greatly appreciated all of the participating companies for their enthusiasm and continued support. 
tags:  academics, global, webster today, thailand, career planning, ,
News by Topic
Tag Categories
News by Topic
Tag Categories