Keith E. Welsh Named Interim Director of Webster University Thailand
Jun. 2, 2016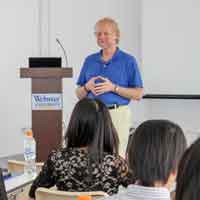 BANGKOK, THAILAND – Keith E. Welsh was named interim director of Webster University Thailand, it was announced today. Welsh is a familiar face at Webster University Thailand and at other Webster campuses around the world, having been a professor of Religious Studies at the St. Louis campus since 1988 and ombudsman of Webster University Thailand since 2014.
As ombudsman, Welsh has worked tirelessly to improve communications among students, faculty and staff and also to help the University address the most pressing issues identified in the recent internal review of the Thailand campus. Welsh has previously described his role as ombudsmen as "a peer and mediator, helping to enhance community and strengthen communications among people on the campus and within the diverse world of Webster."
"Dr. Welsh brings substantial expertise and creativity to our administration in Thailand, and is aware of the significant opportunities that exist in the Asian region," said Peter Maher, associate vice president of International Campuses & Initiatives at Webster University. "I very much look forward to working with Dr. Welsh in developing a strategy to ensure that these opportunities are realized, and that Webster University Thailand continues to play a key role in our institution's global network."
Welsh has a wealth of academic experience. He was awarded the prestigious Wilma and Roswell Messing Jr. Faculty Award at Webster University to study Thai language and literature in 2002. He has taught periodically at Webster's Thailand campus in Cha'Am/Hua Hin since its opening in 1999 and has created more than 60 courses worldwide during his career at Webster.
At Webster University Thailand, Welsh has been involved in a number of extra-curricular activities, including helping create the Webster University Thailand Players, a student theater group. In addition to his experience in Thailand, Welsh has teaching experience at other Webster campuses in the United States, Austria and the United Kingdom.
In St. Louis, he served in the Faculty Senate and presided as chair to the Faculty of the College of Arts & Sciences, the Council of Arts & Sciences and the Department of English. Welsh earned his Ph.D. in English and American Literature, including minors in Victorian Studies and Art History, from Indiana University in 1988.
Welsh replaces Ratish Thakur, who served as director of Webster University's campuses in Bangkok and Cha'Am/Hua Hin since 2006. Thakur is embarking on a research sabbatical and will pursue a variety of research projects that commenced during his recent doctorate studies.
During the past three years, Thakur completed a Doctorate of Business Administration in Luxury Management from Grenoble University. This has contributed greatly to his field of expertise, from both a research perspective and also through curriculum development for Webster's Thailand operation. This research sabbatical will provide him with not only an opportunity for personal development and continued research, but also for greater engagement and collaboration throughout Webster's global network.
Webster University encourages its faculty and staff around the world to expand their knowledge and skills throughout all stages of their career. Sabbaticals ultimately add to the quality of education throughout Webster's global education system.
With its home campus in St. Louis, Missouri, USA, Webster University (www.webster.edu) comprises an action-oriented global network of faculty, staff, students and alumni who forge powerful bonds with each other and with their communities around the globe. Founded in 1915, Webster is a private non-profit university with more than 17,000 students studying at campus locations in North America, Europe, Asia and Africa and in a robust learning environment online. The university is committed to delivering high-quality learning experiences that transform students for global citizenship and individual excellence.
tags:  academics, college of arts and sciences, employee news, faculty, global, home page, provost, webster today, thailand,
News by Topic
Tag Categories
News by Topic
Tag Categories