Global University Systems partners with Webster University to drive global student recruitment at U.S. Locations
May. 5, 2017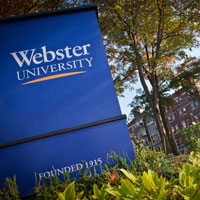 London  – International education group Global University Systems (GUS) today announced a strategic collaboration with Webster University to recruit international students to its campuses in the United States.
With a large network of international agents, global marketing and student recruitment capabilities, Global University Systems will work exclusively with Webster to attract international students to the United States, with a specific focus on recruiting for Webster's locations in St. Louis, Missouri, Orlando, Florida and Irvine, California.
"Webster University is perhaps the most international U.S. higher education institution," said Andrew Malley, director of International Strategic Development. "With their global footprint and focus on internationalisation, GUS and Webster are a perfect match. By working with Webster, GUS can offer students unparalleled choice, superior academic programs, and give them the options of which communities they wish to live and study in. Students no longer have to compromise on their choices."
About Global University Systems
Global University Systems is a global education group encompassing a number of prestigious institutions, offering a broad range of professional, vocational, graduate and postgraduate programmes to around 45,500 students from approximately 150 countries. The group is present in some of the world's biggest cities, with campuses in Dublin, London, Birmingham and Manchester; across the Atlantic in Toronto and Vancouver; and across the globe in places such as Singapore, Hannover and Berlin. GUS has a strong track record of enhancing the performance and reputation of institutions; The University of Law, acquired in 2015, was recently ranked 1st in the UK for overall student satisfaction in the 2016 National Student Survey.
About Webster University
With its home campus in St. Louis, Missouri, USA, Webster University (www.webster.edu) comprises an action-oriented global network of faculty, staff, students and alumni who forge powerful bonds with each other and with their communities around the globe. Founded in 1915, Webster is a private non-profit university with nearly 16,000 students studying at campus locations in North America, Europe, Asia and Africa and in a robust learning environment online. The university is committed to ensuring high-quality learning experiences that transform students for global citizenship and individual excellence.
tags:  extended campus, global, provost, webster today,
News by Topic
Tag Categories
News by Topic
Tag Categories