Kaiser Speaks at LATU Education and Technology in Uruguay
May. 30, 2017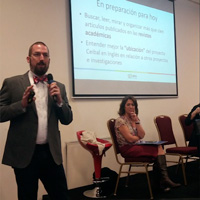 DJ Kaiser, associate professor and coordinator of Teaching English as a Second Language, was one of 25 invited international speakers at the 10-year anniversary conference celebration for Uruguay's Plan Ceibal project.
The Foro de Inovación Educativa brought in specialists in education and technology for this two-day event in Montevideo at the Laboratorio de Tecnología del Uruguay (LATU). Plan Ceibal began in 2007 with the One Laptop Per Child program, which now serves all public primary and secondary schools in Uruguay. The project now manages multiple projects throughout Uruguay that infuse technology into education.
Kaiser spoke on a panel on "Language and Technology" with a presentation entitled "La enseñanza de lenguas extrajeras por videoconferencia en las revistas académicas" (The teaching of foreign languages via videoconference in the academic journals). View his talk on YouTube (in Spanish) along with other panels and keynotes from the event.
Kaiser was chosen as a speaker based on his research on Uruguay's national project Ceibal en Inglés, which now delivers live, interactive videoconference English lessons into more than 4000 primary and secondary public school classrooms. Between a Faculty Research Grant in 2015 and a U.S. Fulbright Scholars Grant in 2016, he observed more than 100 class sessions in seven different cities throughout Uruguay. With a Faculty Research Grant in 2016, Kaiser studied EnglishWorks, another project in Rio de Janeiro that also uses videoconference to assist in the instruction of English.
"My goal with this new talk was to see where Ceibal en Inglés fit in the academic literature," commented Kaiser. "Projects using videoconference, or VC, to teach foreign language date back to 1996.  Through an exhaustive literature review on these projects, it is clear that Ceibal en Inglés is the largest project to date, capable of delivering a hundred live lessons an hour during a regular school day. Now articles are needed on Uruguay's project to help other projects using technology enhance education around the world."
Kaiser is adding to the published literature on this topic with his accepted article "English Language Teaching in Uruguay" in World Englishes, which provides and overview of English education in Uruguay leading to the creation of this innovative project.
In addition to the conference event, Kaiser gave a seminar on teaching English pronunciation at both the Alianza (the United States-Uruguay binational center) in Montevideo and the Centro Regional de Profesores Regionales in Salto (CeRP Litoral). He also made time to meet with a few current recipients of Fulbright grants currently in Uruguay. Time was also spent meeting with colleagues from Plan Ceibal, the British Council, and the public school system of Uruguay to discuss updates on projects and research.
Telecollaboration Project at Webster
To bring this research back to Webster University, Kaiser and his colleague Aldo Rodriguez at the teachers college in Salto, Uruguay, are setting up a telecollaboration project between students in the English education program of CeRP Litoral and candidates in Webster University's EdD in Transformative Learning in the Global Community. These EdD candidates will also learn about teaching language via videoconference this summer by serving as volunteers for EnglishWorks to classes of English learners in Rio de Janeiro. These summer project are designed to provide meaningful service learning to these Webster doctoral candidates.
tags:  employee news, school of education, webster life, webster today, english as second language,
News by Topic
Tag Categories
News by Topic
Tag Categories