Video: Power, Future of Liberal Arts Highlighted in Council of Independent Colleges Workshop at Webster
Apr. 28, 2017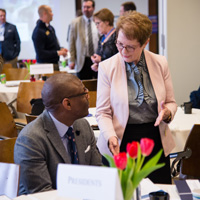 Last month Webster University hosted some of the top educational experts in the region for the Council of Independent Colleges (CIC) workshop, "Securing America's Future: The Power of a Liberal Arts Education."
Midwestern presidents brought teams of faculty and staff to Webster's home campus for the March 14 event, where they learned about and shared promising practices in thriving private colleges.
A team of Webster faculty and staff was among the participants, both to share best practices and to highlight the values of private institutions that are often overlooked or misunderstood.
As a member of the Council of Independent Colleges Project for the Future of Independent Higher Education, Webster University President Beth Stroble was host for the event.
"Those of us who work at private institutions know that the return on investment for student success is much stronger at a private institution," Stroble said. "So I count on CIC's leadership to help us make that case, and to make sure the case is true and living well at Webster."
Participants were able to not only learn from practices at each other's respective institutions, but also to share data that can dispel myths and assumptions about the liberal arts, and spread word of the experiences offered by private universities like Webster.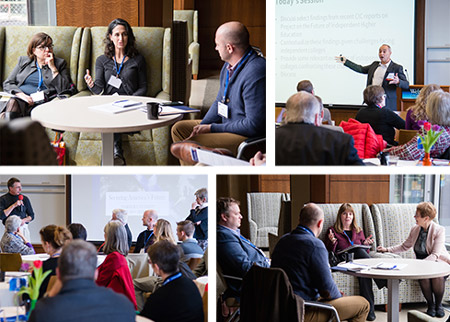 This is the seventh of eight workshops on the liberal arts that CIC has held across the nation in the past tear.
Representatives from universities throughout the region participated in both small and large group discussions about the liberal arts throughout the day.
CIC president Rich Ekman welcomed the group. Georgia Nugent, senior fellow at the CIC and former interim president of the College of Wooster, and president emerita of Kenyon College, moderated the workshop. Speakers also included Christopher Morphew, executive associate dean for Research and Innovation, College of Education, University of Iowa; Christopher Howard, president of Robert Morris University; and Stroble.
"I was so proud of the Webster team," Stroble said. "Our planning process is already underway to put that into action and make life at Webster better for students."
tags:  academics, employee news, faculty, home page, home page, partnerships, president, webster life, webster today,
News by Topic
Tag Categories
News by Topic
Tag Categories