Statement on U.S. Department of State Visa Revocation Memo
Feb. 2, 2017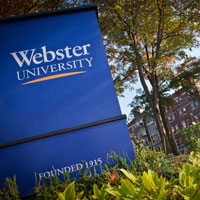 To the Webster University community:
This week, we were made aware of a Jan. 27 memo from the United States Department of State that orders the revocation of some visas of anyone from Iraq, Iran, Libya, Somalia, Sudan, Syria and Yemen. The revocation order exempts anyone who is in the country with the following visas: A-1, A-2, G-1, G-2, G-3, G-4, NATO, C-2 or diplomatic visas. The memo also says visas will be "exempted on the basis of a determination … on a case-by-case-basis." The full memo can be found online at http://d279m997dpfwgl.cloudfront.net/wp/2017/02/memo.jpg. 
This memo is an extension of the order issued by the White House last week barring people from those countries from entering the United States at this time. The memo was made public Wednesday.
Many questions have been raised about this memo. Numerous lawsuits have been filed in response to the government's recent immigration regulations, and it is not clear if a federal judge's recent order staying that order also affects this memo. Many lawyers are questioning whether people who are legally in the United States can be deported without due process or legal counsel. Additionally, a State Department spokesperson told news reporters that the memo does not affect anyone who is currently in the United States with a legal visa, despite wording in the memo to the contrary.
The University is working closely with attorneys and national educational organizations to clarify this latest action so we can offer better guidance to our community. We are stressing that any students, faculty or staff with a passport from those seven countries should refrain from any international travel at this time and until there is greater clarity about these policies, as they may not be able to re-enter the country.
We care about our international students, staff, faculty, and alumni and are taking actions that are stronger than any rhetoric we can put in a letter. We stand by the entire Webster community.
We will continue to monitor the situation and offer the best advice possible to students, faculty and staff. On Friday, Feb. 3, we will host a town hall meeting at noon in the Winifred Moore Auditorium along with attorneys and University representatives to answer questions and further clarify what we know about the recent federal actions. We will make resources available at the town hall and through a dedicated web page at www.webster.edu/executive-order-on-immigration.
We must all stand together in this moment. To paraphrase social activist and United Nations Special Ambassador Waris Dirie, "What happens to one of us, affects us all."
Sincerely,
Elizabeth (Beth) J. Stroble, Ph.D.
President
Julian Z. Schuster, Ph.D.
Provost, Senior Vice President and Chief Operating Officer
tags:  academics, employee news, extended campus, students, diversity and inclusion, faculty, global, home page, president, provost, webster today,
News by Topic
Tag Categories
News by Topic
Tag Categories