Webster University President Stroble at Innovation Summits in Brazil
Jul. 5, 2017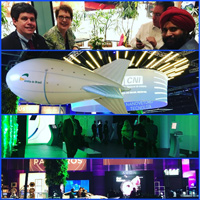 President Elizabeth (Beth) J. Stroble was in Brazil last week as a representative of higher education and Webster University at two innovation-oriented summits that brought together officials from global private and public sectors to discuss innovation ecosystems, policies and opportunities.
Strobe participated in panels at both the Innovation Learning Lab at the São Paulo headquarters of the Brazilian National Confederation of Industry and the 7th Brazilian Industry Innovation Summit.
Innovation Learning Lab
At the Innovation Learning Lab, Stroble was on panel kicking off discussion of the question: "How are we Going to Develop the Future Generations of Makers, Innovators, Doers and Entrepreneurs?"
Other participants included Adham Nadim, chairman of NADIM Industries; Franklin Luzes Junior, COO of Microsoft Participações; Colin Grant, vice president at University of Southampton; Jefferson Gomes, director of SENAI-SC; and Eric Isaacs, executive vice president for Research, Innovation & National Laboratories, University of Chicago.
The event consisted of several interactive workshops in which participants engage in in-depth moderated conversations about innovation ecosystems, technologies and business opportunities.
Industry Innovation Summit
At the Industry Innovation Summit, Stroble was part of a U.S. delegation that included representatives from higher education, the Council on Competitiveness and innovation laboratories, as well as private sector corporations like Cisco Systems, Intel Capital and Dassault Systems. She appeared on a panel: "Big Data: Analysis and Security as a Strategy for Gaining New Markets."
That panel was moderated by Rodrigo Kede Lima, general manager of IBM Latin America, and also included Ailtom Barberino do Nascimento Filho, vice president of the Stefanini Group, Bodgan Vernescu, vice dean for research, Worcester Polytechnic Institute, and Paul Kearns, director of the Argonne National Laboratory.
The summit, held at two-year intervals with dialogue between public institutions and private sector leaders, aims to discuss proposals for public innovation policies, strengthen business innovation activities and promote the development of the innovation ecosystem in Brazil.
They sought the Webster president's insights on solutions and models to develop and prepare future manufacturing, business and innovation leaders who are globally entrepreneurial, as well as the importance of international mobility and leveraging global resources.
tags:  global, home page, president, innovation, partnerships, webster today,
News by Topic
Tag Categories
News by Topic
Tag Categories