Study Abroad Program Named Fourth Best in the Country
Sep. 1, 2017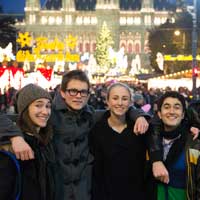 ST. LOUIS - Webster University's Study Abroad Program was named the fourth best in the country this summer by the college-placement organization "Great Value Colleges." Webster's program was praised for its array of choices ranging from locations in Asia, Europe and Africa to opportunities for short academic trips to Cuba, Scotland and other countries.
The organization also extolled Webster for offering study abroad scholarships and for paying for round-trip airfare for students studying at Webster locations. 
"Study abroad can be a truly transformative experience for a student, and Webster University has a system that makes studying abroad convenient and accessible," said Hannah C. Verity, director of Global Program Development and the interim director of Study Abroad. "There are numerous options for studying in locations around the globe through Webster, from visiting one of our many international campuses to studying at a partner location or to participating in a faculty-led short term immersion experience during a break week or the summer."
Webster was placed on the list below the University of St. Thomas in Saint Paul, Minnesota; New York University in New York; and Goucher College in Baltimore Maryland. Webster was ranked ahead of Syracuse University in Syracuse, New York; American University in Washington, D.C.; and Arcadia University in Glenside, Pennsylvania.
According to "Great Value Colleges," the study looked at the percentage of students who study abroad at an institution, the types of international programs available (i.e. volunteer opportunities, internships, research trips, etc.), how the program is managed, the length of study-abroad sessions, if students could study in multiple countries, and the awards and recognitions programs have previously received.
At Webster University, nearly one-fifth of undergraduates will have studied abroad by the time they graduate. Programs available include research, volunteer and internship opportunities, and programs range in length from a few weeks to several semesters. Students have opportunities to study in multiple countries, due to Webster University's locations around the world. Webster's study abroad program has been repeatedly recognized by U.S. News & World Report as one of the best programs in the nation.
Additionally, Webster University offers many resources to students to make study abroad more affordable. The Webster World Traveler Program pays for roundtrip airfare to any undergraduate or graduate student who selects to study for at least 8 weeks through a Webster University program. The University also offers several scholarships to students to pay for room, board and other travel costs to any study-abroad program.
This month, two new scholarships were announced to help with those costs. The Dr. Roy Tamashiro Endowed Travel Scholarship is a one-time, non-renewable award for degree seeking sophomores, juniors, seniors or graduate students who are enrolled in a Webster University sponsored study abroad program, international travel course (including short-term global hybrid courses), international practicum, internship, or international service learning program. 
The Next Century Leaders Endowed Scholarship is a need-based, non-renewable award for degree seeking sophomore, juniors, seniors or graduate students to supplement the cost of tuition, the cost of studying abroad (i.e. housing or program fees), and the cost of airfare. 
For more information about Webster University's study abroad program, visit http://www.webster.edu/study-abroad/.
For more information about the "Great Value Colleges" survey, visit http://www.greatvaluecolleges.net/best-study-abroad-programs/.
tags:  academics, global, home page, president, provost, webster today,
News by Topic
Tag Categories
News by Topic
Tag Categories