A Photographer's Dream in Indonesia
Apr. 25, 2017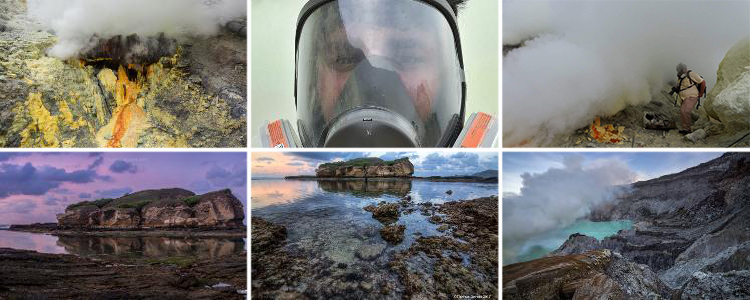 As part of a creative research program for Webster University Thailand's media communications faculty, Thomas Martin Ronald Groves recently completed and published a photo book entitled A Glimpse of Kawah Ljen and Lombok, Indonesia.
Situated just east of Indonesia's tourist island of Bali, Lombok is famous for its pristine beaches, adventurous surfing and unique wildlife. With several small islands or gili surrounding Palau Lombok, the area is steeped in local traditions and ancient cultural beliefs. However, as Lombok is largely absent from most people's travel itineraries, many parts of Lombok remain relatively untouched by tourism, making it a photographer's dream. 
To capture the beauty and uniqueness of this fast developing island, Groves visited Lombok. During his travels he photographed not just the sandy beaches and turquoise waters, but also the everyday life of the islands' inhabitants.
His travels to Kawah Ljen in East Java included photographing workers who are employed in the sulfur mines at Kawah Ljen volcano. Despite being a source of income for many locals, the sulfur mines are dangerous and working conditions are incredibly tough.
In his own words, Groves described his mission as a quest to "photograph these working conditions to tell the story of these harsh working conditions through the use of documentary and landscape photography."
Groves' striking photography from his explorations in Lombok has recently been published into a captivating photo book, A Glimpse of Kawah Ljen and Lombok, Indonesia. These photos capture "areas not walked on by tourism," and provide a unique insight into the lives of locals. The photo book was part of Webster's media and communications faculty creative research program. 
The images contained within Groves' book can be considered as nothing less than mesmerizing. In addition to landscape shots, panoramas, and pictures of everyday life, he also managed to net the daily grind and suffering of the island's sulfur miners. His work also succeeded in capturing the stark juxtaposition of healthy and desolate landscapes, primarily as a result of the sulfur mines in the area. Each of his photographs tells a story of the area and of the lives of its people.
About the Author
Thomas Groves has been affiliated with Webster University Thailand for more than ten years. After completing his BA and MA in Communications at Webster Thailand he went on to hold various academic positions, most recently as a lecturer in media and communications. He currently teaches production skills and communication theories at Webster's Bangkok campus.
Read more and check out photographs on Webster Thailand's newsroom. For those interested in acquiring a hardcopy, Groves' photo book can be purchased online here.
tags:  academics, thailand, faculty, global, webster life, webster today, school of communications,
News by Topic
Tag Categories
News by Topic
Tag Categories