Photography Students from Multiple Campuses Search for 'Perfect Shot' in Chiang Rai
May. 1, 2017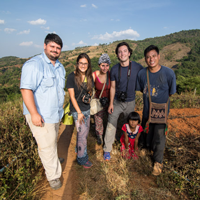 For decades, photography has been used as a means for people around the world to capture memories, express themselves, and create art. With the invention and popularity of the smartphone, photography has begun to document almost every aspect of people's lives including food, travel and social activities.
Despite the increased use of photography in everyday life, for many, photography remains a special way to record human interest and better understand the intricacies of others' lives.
Students from Webster Thailand's undergraduate photography class recently traveled from Hua Hin to Chiang Rai to photograph the lives and livelihoods of the Lahu tribe. The trip provided students with a rare opportunity to learn about the Lahu people, as well as to experience the magnificent local landscapes of Suan Lahu.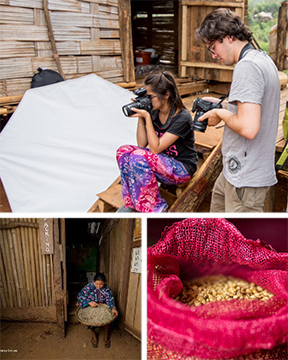 Led by Webster Thailand lecturer Thomas Groves, the group of students travelled more than 940 kilometers to far northern Thailand in search of the 'perfect shot'. Located in the pristine mountains of Wiang Pa Pao, students had the opportunity to explore the natural scenery along with the impressive organic coffee farm nearby. This farm not only produces farm-fresh organic coffee, but it is also an exemplar in the region for chemical free sustainable farming.
Headed by Carina zur Strassen and Lahu tribe member Lo-Ue, the project provided a fascinating and eye-opening experience for the students on the trip.
With Webster students from Thailand, St. Louis (USA) and Leiden (the Netherlands) on the trip, each person brought with them a unique perspective and approach to photography.
As a result, students were able to produce a number of incredible photographs that will soon be produced into a photo book. It is hoped that this book will not only serve as a personal reminder of their travels, but also inspire others to challenge themselves and expand their horizons. 
For more information and photos from the trip, read the full story in the Thailand newsroom.
tags:  academics, students, global, thailand, study abroad, school of communications, faculty, webster life, webster today,
News by Topic
Tag Categories
News by Topic
Tag Categories