Partnership with Thames International College to Bring Nepalese Students to Webster
May. 1, 2017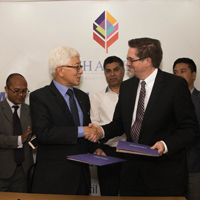 Webster University has signed a memorandum of understanding (MOU) with Thames International College in Kathmandu, Nepal, which is designed to bring students from Nepal to Webster in St. Louis, and open a path for future collaboration between the two institutions. 
The embassy sought to forge partnerships enabling students and faculty exchanges other than the mutual collaborations. Under the terms of this initial MOU, students completing three years of Bachelor in Social Work and Rural Development studies at Thames College will transfer to Webster's St. Louis campus to complete a degree in General Studies.

"We're excited by this partnership, both to welcome more Nepalese students to Webster and to create the possibility of other forms of collaboration, including faculty exchange," said Peter Maher, Webster's associate vice president of Academic Affairs, International Campuses and Initiatives.
Maher's counterpart at Thames, the college's director of Academic Affairs, knows Webster and its international network well: Sujan Kayastha is a Webster University alumnus who studied at Webster's Thailand, London and St. Louis locations.
"We are delighted to have the opportunity to work with Mr. Kayastha, as well as other faculty and administrators at Thames College. I am very confident that with their support this partnership will become very beneficial to both institutions," Maher said.
tags:  academics, college of arts and sciences, global, partnerships, home page, webster today,
News by Topic
Tag Categories
News by Topic
Tag Categories