Message on Title IX Enforcement and Sexual Misconduct
Sep. 25, 2017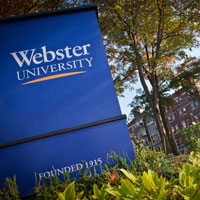 Webster University is committed to preventing sexual assault, harassment, discrimination and other forms of sexual misconduct. The University is resolved to provide education aimed at prevention. The University will continue to strive to have a fair and equitable process for addressing complaints of sexual violence and other sexual misconduct.
As a community, we have taken great strides to ensure a process that is fair and equitable. For years, Webster has had a strong policy and process in place for addressing all forms of sexual misconduct. In 2013, the University expanded this into a single policy for our entire community: students, faculty and staff. Since that time, the University has continued to rigorously review its policies in compliance with federal guidelines, along with implementing stronger educational programs for all students, faculty, and staff. The University has also supported awareness campaigns to highlight the issues and promote the policies necessary to combat sexual assault and sexual harassment.
On Friday, Sept. 22, the U.S. Department of Education rescinded two directives on how to handle sexual violence and sexual misconduct that had been issued during the Obama administration. Also on Friday, the federal government issued new guidelines to be used while it develops new regulations to support Title IX. These changes have caused concern among many in our community.
To be clear, Title IX of the Education Amendments of 1972 remains in force, as do the Clery Act and Violence Against Women Act. Our Policy on Sexual Assault, Harassment and Other Sexual Offenses, last revised Sept. 30, 2016, remains in force. We are evaluating that policy as it may be affected by the guidelines released by the federal government, and we will make any required revisions quickly, if necessary. Notably, our policy was already under review, as we continually strive to deal with the issue of sexual misconduct, which continues to challenge our country. We want to assure our community that Webster University's policy on Sexual Assault, Harassment and Other Sexual Misconduct will not be weakened by any of these reviews.
Webster University has been and will continue to be committed to maintaining a safe learning and working environment that is free of discrimination, harassment, sexual violence, and other forms of misconduct that undermine its educational mission.
Elizabeth (Beth) J. Stroble
President
Julian Z. Schuster
Provost, Senior Vice President and Chief Operating Officer
Betsy M. Schmutz
Chief Human Resources Officer
University Title IX Coordinator
tags:  global, home page, president, provost, human resources, student affairs, employees, faculty, webster today,
News by Topic
Tag Categories
News by Topic
Tag Categories