Renovation, Expansion Planned for Webster Thailand Campuses
Apr. 5, 2017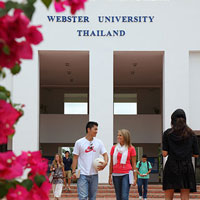 Webster University Thailand announces renovation plans for the Cha-Am/Hua Hin campus and the expansion of the downtown Bangkok campus. These developments are part of Webster University Thailand's commitment to the quality of teaching and learning and will enhance the life of the community for students, faculty, and staff. 
Cha-Am/Hua Hin
In order to modernize and enhance the student facilities at Webster's Cha-Am/Hua Hin campus, there will be a series of improvements over the next several months, including painting the exterior of the entire complex, painting all roofs, improving campus lighting, remodeling the library, and replacing the basketball court. It is expected that these renovations will be completed by August 2017.
Bangkok
The expansion of Empire Tower location will double the current capacity of Webster University in Bangkok. By increasing the number of classrooms and the office space available, the Bangkok Academic Center will create vibrant, flexible learning environments that are multifunctional and cutting-edge. It is expected that this expansion will be completed and operational by July 2017.
tags:  global, thailand, construction, webster life, webster today,
News by Topic
Tag Categories
News by Topic
Tag Categories