Webster Thailand Rotaract Club Students Cleans Up Beach
Apr. 3, 2017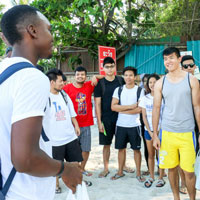 On Wednesday, March 22, students from Webster University Thailand and Stamford International University joined hands as part of a voluntary effort to clean up Hua Hin's Central Beach. Organized by the respective Rotaract Clubs of the two universities, the afternoon provided an opportunity to highlight the environmental damage caused by littering. 
The event was a wonderful opportunity for students from both universities to socialize and get to know each other. Over the course of the afternoon, students were able to remove large amounts of plastics and other wastes that are harmful to the environment.
After the beach clean-up students dined at the U2 Restaurant in downtown Hua Hin for some well-deserved food and drinks. Here students had plenty of time to chat, exchange stories and learn from each other.

On average, plastics constitute approximately 60 percent of all waste on Thai beaches. Not only is this unsightly, but it also poses a serious environmental risk to birds and marine life. With many plastics taking more than 20 years to decompose, the threat from plastics is long-term and critical.
View more photos of the beach clean up event at the Webster University Thailand page.
About Rotaract Club
Webster's Rotaract Club is active and committed to making positive changes within local communities. Club members recently participated in the 46th Annual Children's Outing, providing students with disability the opportunity to have some fun. The club is also involved in a range of other fundraising and charity projects in Bangkok and Hua Hin.
tags:  global, thailand, student engagement, community engagement, webster life, webster today,
News by Topic
Tag Categories
News by Topic
Tag Categories