WVPU at the Lange Nacht der Forschung 2018
Apr. 18, 2018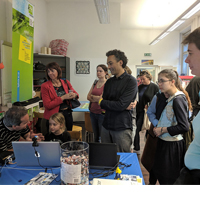 On Friday, April 13, Webster Vienna Private University participated in the Lange Nacht der Forschung (Long Night of Research) for the first time. Faculty members Dr. Jozef Batora, Dr. Peter Walla, Dr. Marc Mehu, Holger Lang, Dr. Pernille Eskerod and graduate student Viktoriya Onopriyenko presented their research in an engaging atmosphere to children and adults alike.
Dr. Batora of the International Relations department presented his research on the European External Action Service and perceptions of the EU in Kosovo while engaging visitors in interactive quizzes. Dr. Walla and Dr. Mehu brought the Psychology Department's state-of-the-art facial recognition program, and visitors could see their conscious and unconscious emotional reactions to the activities surrounding them. Mr. Lang, MA brought an interactive meme generator and showed visitors the cultural significance of memes throughout the ages. Dr. Eskerod and Ms. Onopriyenko presented the importance and impact of green certification in the hotel industry.
This year's Lange Nacht der Forschung saw the most number of visitors to date. Over 87,000 people attended the Lange Nacht der Forscung 2018 in Vienna alone. With over 600 stations, WVPU's stand certainly stood out. WVPU would like to thank Science Pool and the Museum der Nerdigkeiten for hosting our stand and for their resources throughout the evening.
Click here to view more pictures from the event.
News by Topic
Tag Categories
News by Topic
Tag Categories