Weiner works with ORF III: Pixel, Bytes and Film
Sep. 4, 2018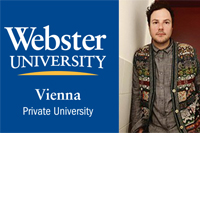 Under the alias Sadie Siegel, Webster Vienna adjunct Seth Weiner recently completed work on the sound for Ralo Mayer's essayistic film, "Noordung's Wien" as part of the ORF III: Pixel, Bytes and Film program.
In the film, Mayer speculates on the connection between engineer Herman Potocnik's book "Das Problem der Befahrung des Weltraums (The Problem of Space Travel)" and the Prater amusement park as an early instrument for the imagination of space travel and its colonization as well as its relationship to the political context of Vienna in the 1920's. Weiner's contribution of the soundtrack is a continuation of his artistic research into the ways in which form influences the construction of meaning and temporality; in this case sound being treated as a type of mobile architecture that unfolds in time, manipulating the perception of space, image and argument.  
In Fall II, Weiner will be teaching INTM 2350: Digital Production Tools.
"Noordung's Wien" will air on September 9th, on ORF III at 09.55.
 
News by Topic
Tag Categories
News by Topic
Tag Categories