Webster Vienna Alumni Join Forces to Make an Impact in the Digital Age
Jun. 21, 2018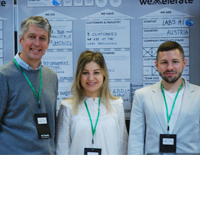 Three members of the Webster Vienna family, Franz Weber (MBA/Finance '95), Gregor Jarisch (a soon-to-be Webster Alum) and Emilija Ilic (current Marketing graduate student) joined forces to start-up their own software development platform: EDDI.
EDDI is a software development platform which creates multiple tailor-made chatbots. EDDI was started 12 years ago; however, it wasn't until the end of last year that EDDI approached the market as an open source platform from developers for developers. Their team consists of  three people, Franz Weber, CEO, Co-founder and current president of the Webster Vienna Private University Alumni Association; Gregor Jarisch, Head of R&D and Co-founder; and Emilija Ilic, marketing specialist.
How did you get the idea to create EDDI?

Franz & Gregor: The idea was born as we were introduced to each other by Jesse Alexander, the former Head of the Student Resource Center. Gregor told me about his software, which he developed for the last 8 years, and I thought this is now the right time to bring it to the market.
What makes EDDI stand out among other software development platforms?

Gregor: EDDI is an open source platform. It means that our pricing strategy is based on monthly subscriptions fees for consulting and training for using and applying EDDI. It can be downloaded for free, but in order to use all of its features and benefits, users need to subscribe to our consulting services.
It is important to note that EDDI is GDPR compliant. This unique feature is probably the strongest differentiator of EDDI on the market.

How do the EU General Data Protection Rules affect chatbots?
Franz:  With the new EU General Data Protection Rules (GDPR) we have to rethink how we are developing chatbots. GDPR is regulating how companies (anywhere in the world) have to handle personal data of EU citizens. And 'personal data' means any information relating to an identified or identifiable natural person (data subject). Now chatbots are clearly using and storing personal data.

You are currently planning a 10-hour long coding challenge, how did you come up with this idea?

Gregor:  The idea of organizing the event came from having many years of experience in this field. The main goal of hosting such an event is to increase the awareness of EDDI and achieve primary positioning in the market. We are trying to convert our participants into influencers in the market as well as potential customers. Such coding challenges should hopefully help us build the community with developers and set a basic customer base for the future.
For whom do you provide a platform for creating, running and maintaining chatbots?

Emilija:  Our buying persona consists of three main individuals: professional software developers or programmers, innovation managers, and service managers.
What have been some of your failures, and what did you learn from them?

Gregor:  The software development went into the wrong direction three times and therefore, it had to start from scratch. What we have learned in this arduous process is to never compromise, always strive for the best solution.
Does the fact that the three of you are part of the Webster Vienna community play a role in the way you have developed EDDI? If yes, how?
Emilija:  The fact that we are all part of the Webster Vienna family plays an important role in our team work. It brings us closer together and makes our work and communication easier. Together, we enjoy the challenge of a new environment and are motivated to have more Webster students as part of our team.
Why did you choose WVPU and what did you like the most about studying at Webster?
Emilija: The three of us chose Webster because it is an American University strongly focused on the students. The courses are taught by individuals with a high level of first-hand business experience. Professors include real life experience in what they teach the students.
Why did you choose to study your particular degree?
Emilija: I chose Marketing because I have felt extremely passionate about it since the beginning of my studies. The opportunity to apply all the things I learned at Webster at Labs.ai is a unique and valuable opportunity. It nurtures my experience and sharpens my knowledge within this field.
Franz: I already was working at IBM and was looking for an MBA that could accompany my working life style (where I could study after working hours). Webster offered me this opportunity. In addition, I received a scholarship by the Austrian National Bank
Gregor: I always had a passion for Computer Science and Media in general. As my profession already had settled towards software development early in my days, my interest in media was more motivated by idealistic reasons.
What was your first job after/during Webster? And, how did you land that job?
Emilija: This is my very first independent job experience after my bachelor studies. I found it thanks to Alexandra Deubner (Senior Career Development Officer) and the Webster Mentoring program which connected me to Franz who was running the company at that very moment. Together we agreed to pursue our collaboration to a higher level of self and potential fulfillment at Labs.ai
In this regard, I would like to encourage Webster students to embark on any extracurricular activity Webster has to offer. It is a great opportunity to develop yourself while doing mutually useful activities.
Franz: I had already worked at IBM in the Finance department. Studying at Webster and doing my MBA was so useful to me, thus I could apply the knowledge I obtained at Webster immediately at my job.
Gregor: I started my profession before entering Webster as my entrepreneurial heart inspired me already back in high school.
What is your advice for future graduates from WVPU when entering the working world (either working for a company or starting a business)?
Emilija: Pursue your dreams and believe in yourself; learn and grow through every experience you have.
Franz: Always be curious and challenge yourself as well as your colleagues. Apply a growth mind set in your job.
Gregor: Change (management) is the hardest, but often the most important. Often more important than anything else.
Are there any opportunities for a Webster alum or student to join your team at EDDI?
Franz:  Yes, especially in the Marketing and Sales team.
On behalf of the Alumni Office we would like to thank Franz, Gregor, and Emilija their time and we wish them a lot of success in this exciting project.

Further information on chatbots:

What are chatbots?

A chatbot is a service, powered by rules and sometimes artificial intelligence that you interact with via a chat interface. The service could be any number of things, ranging from functional to fun, and it could live in any major chat product (Facebook Messenger, Slack, Telegram, Text Messages, etc.) (Schlicht, 2016).
 
How will chatbots change the way we communicate?

Unlike human sales agents, chatbots provide a 24×7 communication option, which gladly eases the process of consumer interaction and query resolution. Furthermore, the instant and detailed response generated by a chatbot prompt quick action from a customer, elevating the satisfaction they derive from the entire sales process instantly. Also, the communication style of chatbots can be easily personalized according to the preferences of individual customers as well of brands. Their non-intrusive, direct and informed process of communication reduces wasted effort. Being program based, they can easily be adapted into a brand's existing digital channel and established a style of communication (Vaaish, 2017).

How can chatbots make a company or business more successful?
More and more, chatbots have become the latest addition to every marketer's bag of strategies because it can give a company a major advantage in customer support. Businesses should consider adopting chatbots because as technology keeps developing, human costumer interactions are expected to be decrease (Gartner) while the global chatbot market is expected to grow exponentially between 2016 and 2023 (Credence Research). Moreover, by 2018, 6 billion connected devices will proactively ask for support and by 2020, 40% of mobile interactions will be managed by smart agents (Gartner). Thus, chatbots represent a very huge opportunity for business to communicate and engage their customers through messaging apps (Kim, 2018).
Citations:
Kim, Larry. "The Importance of Chatbots in Every Business (Infographic)." Chatbots Magazine,Jun. 8 2018, chatbotsmagazine.com/the-importance-of-chatbots-in-every-business-infographic-8a8f990be0aa. Accessed Jun. 15 2018)
Schlicht, Mark. "The Complete Beginner's Guide to Chatbots."Chatbots Magazine, Apr. 20 2016, owl.english.purdue.edu/owl/resource/747/08/. Accessed Jun. 15 2018.)
Vaish, Aakrit. "How Chatbots and AI are changing the way enterprises communicate with their audience." Medium, Oct. 25 2017, medium.com/haptik-inc/how-chatbots-and-ai-are-changing-the-way-enterprises-communicate-with-their-audience-a8fa15a3417e. Accessed Jun. 15 2018)
News by Topic
Tag Categories
News by Topic
Tag Categories