Alumni Spotlight: Jessica Fleser
Sep. 4, 2018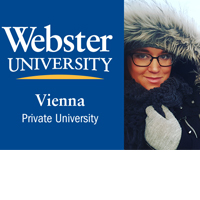 The Alumni Association had the distinct pleasure of interviewing Jessica Fleser (MA Psychology - Class of 2018) for the September Alumni Spotlight.
This recent graduate is following her dreams after her time at Webster Vienna.

Jessica, what made you choose Vienna, and Webster University?
I knew I wanted to attend grad school abroad, I just didn't know where. I researched possible programs and I found two of them I liked. One of which was in Vienna. I found that the psychology program Webster University offered fit my needs and wants regarding my education.
Why did you decide to pursue an MA in Psychology?
In order to pursue what I wanted most to do, I needed to further my education. I have wanted to study psychology since I started college (since 2010) and I always kept in mind what I needed to accomplish in order to fulfill my future goals.
What did you like the most about studying at Webster?
I loved the diversity and location of Webster Vienna. I enjoyed the experience of meeting people from all walks of life and being able to easily travel to other destinations around Europe.
Could you tell us about your experience living abroad? (challenges, opportunities, lessons)
Living abroad for two years afforded me the experience of a life time. I was able to travel to multiple countries and cities around Europe, meet new friends, and experience a new and different way of life. The two biggest challenges I faced were being homesick and establishing myself in Vienna. Living so far from home was hard at first, especially when my family didn't have the means to travel to Vienna. After the first few months, the homesickness abated. Establishing myself in Vienna was a challenge because of how different things were compared to back home (example, the documents I needed to obtain in order to set up a bank account and health insurance). I felt like I needed to conform to this new way of life as fast as possible in order to fulfill the requirements needed to live there.
In your experience, how does studying in the US differ from studying in Austria?
Luckily there weren't too many differences between the US and Austria because Webster Vienna is an American University. However, I did notice that Webster Vienna complied not only with American but also Austrian education regulations and standards.

We are aware that you recently became a licensed psychologist shortly after graduation, congratulations. Could you tell us a bit about the process and how you were able to get licensed so soon?
Thank you. The Michigan licensing department website listed all of the steps and actions I needed to complete in order to gain my license. So as soon as I came home, I filled out my license application and sent it in to the licensing department of Michigan. After that, I followed the necessary steps in order to gain my license. The whole process took about a month. I was able to get licensed because I fulfilled the education requirements the state licensing department required for the license I was seeking.

How do you think Webster helped you prepare for this process?
The staff and faculty at Webster helped me achieve this process. When I first came to them with the licensing requirements of my state, they worked with me so I was able to fulfill those requirements before graduation.
What is your advice for other graduates who are looking to get licensed in the United States?
First, determine what state you wish to work in. Every state has different requirements and some even have different licenses offered (example: Illinois does not offer the license I currently have). Second, I recommend you research, research, research. When looking into what license I would obtain, I talked to fellow professionals (the therapists who worked at the private practice my internship was at) and constantly referred back to the Michigan licensing website. So, I would recommend talking to fellow professionals regarding their license and the process that went with gaining that license. Third (kind of fits into the first and second points), know the education requirements of your desired state and license. It is important to know what your state and license requires for courses, internship/practicum, and accreditation.

What type of skill would you say is essential for succeeding in the professional world that you cannot learn in a classroom?
I don't know if this is a 'skill' per se but letting go the rigidity of classroom knowledge and learning how to conform/adapt to real world situations. To explain this: when I started my internship, I first sat in on my supervisor's client sessions for a couple days before I was to have my first client. When sitting in on her sessions, I found myself finding 'faults' on many things she was doing. When I brought this to her attention, she just asked, "why was it wrong?" And I could only say, 'because of what we learned in class…' and she explained that what she did was based on that individual client and there was no harm whatsoever being done to the client. When reflecting on myself, I found that I was holding on to the rigidity of my classroom knowledge and in order to help all the clients I will have in the future, I need to be open to changing myself and conforming my professional tools to be more universal (able to help as many clients as I can).
What are your plans for the nearest future?
This week (the last week of July, 2018) I received confirmation that I secured a job! I will be working in a crisis center helping individuals through a variety of crisis situations (suicide, substance use relapse, abuse, etc.).

Do you have a motto or quote that you live by?
"Love all, trust a few, do harm to none. – W. Shakespeare" I found that quote is my one permanent life rule. We should love everyone. Not everyone can be trusted so find the few that you do trust. Never harm another being for you do not wish for harm to be done to you.
News by Topic
Tag Categories
News by Topic
Tag Categories