Alumni Spotlight: Anda Radu - Ernst and Young
Oct. 4, 2018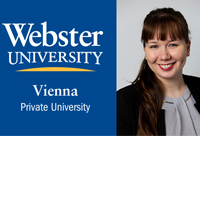 The Alumni Association had the distinct pleasure of interviewing Anda Radu (MA International Relations - Class of 2017) for the October Alumni Spotlight.
This recent graduate is now following her dreams see what she has to say about her time at Webster Vienna.
What made you choose Vienna, and Webster University?
Vienna attracted me with its vibe, it is a city that makes you feel well. This was also partly the reason why I chose to attend  Webster Vienna Private University: it was located in a city in which I could have the kind of lifestyle that I wanted. At the same time, I was looking for a master's degree in international relations, in English, and Webster was the only university that could offer that in Vienna. The flexibility offered with the master's degree was an additional factor (one could study part-time in order to be able to pursue other activities simultaneously).
Why did you decide to pursue an MA in International Relations?
Since high school, I had an inclination towards both business administration and international relations. Therefore, I decided to pursue the first as a bachelor degree in my home country, Romania, and the second as a master's degree, abroad.
What was your first job after Webster? How did you land that job?
The first job actually occurred while studying at Webster, a research assistance role in a company specialized in executive search (more popularly known as 'headhunting') for the energy sector. It was a small Austrian firm which operated internationally. I was particularly attracted to this opportunity because of the chance I had to be exposed to the energy field. I wanted to pursue this field further. As far as I remember, I found out about this job through the online post of a Webster colleague that was working for this company at the time. This job developed later on into a full-time junior consultant position, once I finished my master's degree.

We are aware that you have had significant experience as an intern and volunteer in different international organizations. Can you tell us a bit about these experiences and what you learned from them?
Indeed, I am a strong believer in complementing classroom learning with professional experience in the real world. I started my volunteer experience during my bachelor's degree with an international youth-run organization (AIESEC), and I continued in Vienna with experiences such as the internship with the Permanent Mission of Romania to the OSCE, the program Regional Academy in the United Nations, and the alumni assistant work-study position at Webster. I also attended some very insightful seminars/summer schools on energy.
Each of these experiences brought a different added-value. The two-years experience in AIESEC, at an early time in my professional development, helped me improve my soft skills and take responsibilities that otherwise would not have been possible at 20 years old (e.g. project manager, trainer etc.). The internship with the Permanent Mission taught me how multilateral diplomacy is practiced.

In general, the exposure to different sectors and types of actors (NGOs, government, international organizations etc.) made me learn how different types of jobs would look like. I also learned how to take better and more informed decisions about the next steps in my professional development. At the same time, I met many interesting people, and the exchange of thoughts with them made the experiences much richer.  

You are now working as a Consultant in the Governance and Public Sector for EY (Ernst & Young), congratulations on this new chapter in your life. Could you tell us about your current position?
Thank you. I have been working in this position since March 2018, when I moved back to Romania. I enjoy it very much because it is intellectually stimulating, the environment is both dynamic and collaborative, and the colleagues are fun. Our department (Governmental and Public Sector) is part of the Advisory department. We work both with national institutions (e.g. Romanian ministries) and with international institutions (e.g. European Commission). Some of the types of projects that I have worked on already are ex-post evaluation reports of EU-level programs, EU-level studies, and technical assistance projects at the national level.
What have been some of the challenges in your new job? And, how did you overcome them?
Fortunately, so far there have been no big challenges, I managed to adapt quite quickly. I consider myself to be a demanding person with a prominent sense of initiative, this fit very well with the new company.
Maybe a small challenge was adapting to a large open office.  However, it provides better opportunities for working with others and socializing. When I need to deliver something in a very short time-frame, I am able to book myself a work room.
It is equally a challenge to stay away from the frequent opportunities to eat cakes. I must admit, I have yet to try and overcome this sweet challenge.

What type of skill which you cannot learn in a classroom is essential to succeed in the professional world?
Experiences gained outside of the classroom give you maturity. This arises from encountering all sorts of situations, dealing with colleagues and managers that have very different communication styles and degrees of organization, as well as learning how to approach the client's expectations.

You have had the opportunity work both in Austria and in Romania, how does working in Bucharest compare to working in Vienna?
I equally enjoy working in Austria and Romania, and in both countries I was regularly exposed to an international environment. I think the most important factor is to be in the right job, in the right company, at the right moment in your life with an opportunity for professional development. One can generally encounter larger differences among types of actors (e.g. international organizations vs. private sector vs. NGOs) rather than simply between working in two different countries.  
One difference at detail-level is that, although I currently deliver mostly in English, I interact with my work colleagues mostly in Romanian, which I haven't done so much in some years. It is a lot of fun.

What has been your biggest professional success so far?
To many, professional success is linked to external validation. I have had such moments, like graduating both my bachelor and my master's degree as the top student of the class, valedictorian. Working in a prestigious Big Four company is also an achievement I am proud of. Beyond that, to me, professional success means internal validation: discovering a domain/industry that you like working in or some skills that you are particularly and naturally good at. In that regard, I am glad that, for the time being, there are two domains that I equally enjoy: advisory for the public sector, and energy. However, time will show how things will develop.

What is your advice for future graduates from WVPU when entering the working world (either working for a company, starting an internship or looking for a job in your field)?
Each of us encounter different challenges, however there are some issues that are perhaps applicable across fields and personalities. Be pragmatic and take decisions. In other words, if you want something, try all the possible solutions but, if things do not work out for some time, make courageous and necessary changes. All the while, keep in mind that there is no straight road for a desired outcome or envisioned future.
News by Topic
Tag Categories
News by Topic
Tag Categories