Alumni Spotlight: Andrew Wong- Fundie Ventures
Jul. 31, 2018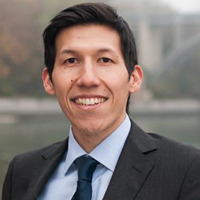 The Alumni Association had the distinct pleasure of interviewing Andrew (Andy) Wong (MBA - Class of 2015) for the August Alumni Spotlight.

This young professional is making waves after his time at Webster Vienna and was even named one of Forbes' 30 under 30 in Finance.
Read below to learn more about this entrepreneur and how he is making an impact in the world.

Andy, when you were looking for a graduate MBA program, what made you choose Webster Vienna Private University?  
There were several things I considered when moving to Vienna. Firstly, I wanted an experience that was international - having the opportunity to study and live abroad was a big factor in my decision. Webster was particularly interesting in that it models its system after the American higher education model. I knew it would provide the strong holistic groundwork to build my career on.  Also, to be candid, the largest factor in my decision of moving to Vienna was living closer to my girlfriend; we're still together after over four years, and it's one of the best (and most daring) decisions I've ever made.
 
How do you think Webster Vienna prepared you for your professional career?
Webster Vienna gave me a strong foundation to build upon. Without courses in corporate finance and accounting I would have struggled during my Masters in Advanced Finance program at IE Business School. Also, I actively use what I've learned in my organizational behavior class in managing my own startup, Fundie Ventures.
 

What was your first job after Webster Vienna and how did you land that job?
My first job after my studies was Fundie Ventures. When I met my business partner, Stuart Minnaar, who was also passionate about building something with a lasting legacy and creating an impact bigger than we could each make on our own, we spent the duration of our program at IE building Fundie.
Stuart's been a consistent driving force to push Fundie forward and has honestly been a huge influence in my life. Without him, Fundie wouldn't be here; I wouldn't have had the opportunity to tackle the highs and lows of entrepreneurship, and getting to do that with someone I trust and admire is a godsend.
Our long term goal is to raise a fund to invest in social enterprise startups ourselves, and, in pursuit of that goal, we created Fundie Ventures in its current incarnation – a venture consultancy that helps social startups become investment ready.
 
You were recently named one of Forbes' 30 under 30 in Finance. This is a remarkable accomplishment, how has this recognition impacted your life?  
Thank you so much. It has genuinely been a major catalyst in growing Fundie. It has boosted our profile as an organization, and has been invaluable in our efforts to partner with other organizations who are doing amazing things in the industry. We're so incredibly thankful to Forbes for recognizing what we're trying to achieve, and I really do believe it's been instrumental in our success over the last year.
 
You are currently a partner at Fundie Ventures, could you give us a short description of what you do?
Of course, my partners and I wear a lot of different "hats" at Fundie. Over the last two years we have spent the majority of our time building out the "engine" of Fundie – deal sourcing and due diligence, consulting, and thought leadership. With the support of our team of sixty-plus extremely talented Fundiers who keep the engine running, we spend a lot time nowadays in strategy and executing the bigger picture. Currently, our day to day includes building partnerships with other organizations in the impact space, consulting with startups, and continually refining our internal processes so that we can accomplish our larger goals: raising a fund and expanding our impact to other schools.  
 
What makes Fundie Ventures different from other organizations?
We are chiefly different in that our business is supported entirely by the brilliant minds at IE Business School. Our student associates come from a variety of academic disciplines (MBA, Finance, Big Data, etc.) and have extremely impressive professional backgrounds. Their commitment to the excellent work they do in vetting and consulting with startups is admiring, and I am continually impressed by their work and dedication.
 
"...my time at Webster and being involved in the community at Impact Hub Vienna was honestly the best thing for me – it gave me the skill and direction I needed to actually pursue my goal of helping others."
What have been some of the greatest challenges of your career? And, how have you overcome them?
My greatest challenge to date has been overcoming my "jack of all trades, master of none – syndrome" during my early twenties. In being relatively good at a wide range of things, it took me along time to sort out what I wanted to pursue professionally and what should remain a hobby.

For example, at one point or another in my early twenties, I had considered teaching, becoming a psychologist, playing music professionally, etc. This is something I talked about at length a few months ago during my talk at the Leap Conference at IE University. My biggest piece of advice in that talk was to stay busy as a way to combat "analysis paralysis".

Personally, I spent too much time thinking and not enough time doing. I would have arrived at my conclusion of "do something that helps others", much faster had I just jumped in and gotten my hands dirty from the get go. But, my time at Webster and being involved in the community at Impact Hub Vienna was honestly the best thing for me – it gave me the skill and direction I needed to actually pursue my goal of helping others.

What type of skills would you say are essential to succeed in your career, which are not learned in a classroom?
Self-discipline and person-accountability. Yes, there is an element to that in academics, but I think the importance of those two skills are really tested and developed in the working world. Especially at a startup – if I take a day off, the business does not move any closer towards its goals. Those two skills are things I personally want to improve on and really do see the difference in my work on days when I make them a priority.
 
"If you're a woman, be bold! If you're a man, speak out!"
You have become very successful in your field and have already accomplished so much in your career, what would be your advice to recent graduates who are just beginning their careers?
Thank you so much – that's extremely kind of you. Yes, I have a lot of advice to give, especially as someone who is now leaving their twenties.
It's important to first understand what your own definition of success is. If that means earning as much money as possible, then great. If that means spending your time raising a family, then awesome. If it's a mix of the two – amazing.
Until you define that for yourself, you'll likely feel the discomfort of having others' expectations thrust upon you. I think it's completely normal to feel that dissonance between what you want and what is expected of you, but the best thing you can do for own sanity is to explicitly define "success" in your own terms.
Be patient and impatient. Understand that your first job will not be your last job. If you don't know what you want to do, that's okay; find out what you don't want quickly and then move on. If you know what you want, then find a job as close to that as possible, but if you don't land your dream job right out of university, just think of it as a foot in the door and as a stepping stone to the next opportunity.
Be nice and honest. Firstly, it's just what people should be by default, but you'll also get further ahead by being likable and trustworthy than you would otherwise. That is not to say be a people pleaser, but basic human decency should be the bare minimum.
If you're a woman, be bold! If you're a man, speak out!
Women are asked to do the same work as men and are paid less. They are frequently spoken over at meetings and are labeled in harsh terms when they are assertive. It's an unfortunate paradigm, but like other movements (e.g. civil rights, LGBT rights, etc.) needs active engagement.
Small actions are not hard and are meaningful. Women, as cheesy at it may be, "be the change you wish to see in the world".  I can only imagine how difficult it will be, but future generations will thank you. Lean-In circles are also a great source of support from other women doing the same the thing.
Men, support the women you work with. Interrupt those who interrupt women. Call out cat-callers. Just be the person your mom would be proud of.
Thank you Andrew for taking the time to speak with us. We are very proud of your accomplishments and cannot wait to see what great things the future has in store for you and Fundie Ventures.
News by Topic
Tag Categories
News by Topic
Tag Categories