Alumni Spotlight: Davielle Waldner - NBCUniversal
Feb. 16, 2018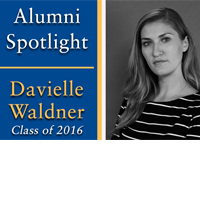 Davielle Waldner graduated in 2016 from Webster Vienna Private University with a Bachelor of Arts in Media Communications. Read below to follow Davielle's journey from the city of music and dreams to what some have called, "the center of the universe". Davielle moved to the US after she graduated and is now working for NBCUniversal in the Big Apple.
 
"...be patient and hard working. Never get discouraged if something doesn't immediately happen for you. Just keep going..."

Davielle, what made you choose Vienna, and Webster University?  
Because I am half American and was born and raised in Vienna, my ties to America were still very strong. I felt that I missed out on various American things that I longed for, such as American football, cheerleading, graduating with cap and gown. Even though Vienna has amazing universities, I didn't quite fit in with the system. It was my mother who approached me one day, letting me know that Webster Vienna was an option if I was interested. It offered the degree Media Communications I was interested in, so I grabbed this opportunity my mother so kindly made possible.
How does life in NYC compare to life in Vienna?
 
Oh, how much time do I have? There are a lot of differences. Of course, I was spoiled in Vienna. Anybody in Vienna would be with all the history, the buildings, the subway stations and the city itself! Just beautiful. NYC is very dirty, loud and expensive. The quality of living isn't the best if your income isn't at a higher level. It surely is character building, to say the least. Yet, I know I made the right decision for myself. Moving to NYC was the step I had to take for personal growth and also for my career. It has been a struggle – a struggle that Vienna wouldn't have provided and it has been the best decision of my life.
 
What are your favorite memories from your time at Webster Vienna?
I met my best friend during my freshmen year and that friendship has been amazing. Otherwise, I would have to say that my favorite memory during my time at Webster Vienna was filming a short film in the summer semester of my senior year. Those two weeks in Croatia made me realize that my passion for film and TV production is too strong to ignore and that my work ethic is unstoppable. And it's true - I put work first. That's what makes me survive in the industry and in NYC.
 
What was your first job after Webster Vienna? And how did you land that job?
After I graduated from Webster Vienna, I moved to Boston for a couple of months and worked in retail just for some extra money. I did the same when I moved to NYC, parallel to some acting gigs as an extra. (Fun fact: I was an extra in an episode of Billions in season 2.) You have to start somewhere. Getting my first job in the media industry took me a few months. I landed my first Social Media Editor job at VaynerMedia as one of the editors for the CEO, Gary Vaynerchuk, a successful entrepreneur who became semi famous through his YouTube channel. I got that job by applying through Indeed. The pay wasn't ideal, but I didn't care. This job got my foot in the door. From there on, I moved to the production department within the company as an Assistant Editor where I worked on commercials for Budweiser, Stella Artois, Pepsi Co., GE, etc. When my contract ended, I immediately landed a job as a Lead Video Editor for Asset TV, a small media company that catered to investment professionals. And when the opportunity to work at NBCUniversal as an Assistant Editor came along, I jumped on that. And here we are.
 
Could you give us a short description of what you do as Assistant Editor at NBCUniversal?
I prep projects for the video editors (organize assets, assemble rough cuts, make projects tidy and ready for the editors to edit). I also log and confirm all project assets are provided in the correct format, manage organization in the server, log and track all the drives in the library, traffic all broadcast and digital deliverables and generally provide production assistance on set as needed. We shall see what this road will lead to.
 
You have become very successful in your field, and have gone on to have an expansive career, what would be your advice to recent graduates that are just beginning their careers?
It may be frustrating to hear this, but be patient and hard working. Never get discouraged if something doesn't immediately happen for you. It's easier said than done. Just keep going. This journey will highlight your strengths and weaknesses and it's important to acknowledge that this is the beginning of your career. Things can take time. Often, it's also about who you know, so try to network as much as you can already. Try to seek out events that pertain to your field. Be scrappy and willing to work hard. The world is your oyster.
 
Do you keep in contact with anyone you met during your time at Webster Vienna?
Yes, my best friend I met during freshmen year and two other Media Communications majors.
 
Would you be interested in connecting with your former classmates from your time at Webster Vienna?
Of course, I am always intrigued and interested as to what the graduates of 2016 have been up to since we thew our caps in the air.  
News by Topic
Tag Categories
News by Topic
Tag Categories