Alumni Spotlight: Mia Rajkovic- Co-founder of Pixhug
Jan. 18, 2018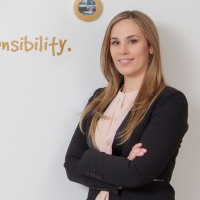 For this edition of the Alumni Spotlight, we got the opportunity to speak with a Webster Vienna Alumna who is a socially responsible pioneer and trailblazer. Mia Rajkovic graduated from Webster Vienna in 2003 with a double bachelor's in Psychology and Management.
Mia is now the co-founder of Pixhug and is helping to change the world one social media post at a time.
"...if a photo is "worth a thousand words," can it also be worth a thousand trees, meals or vaccines? The answer is 'yes.' "
What brought you to Webster Vienna?
When I was 15 years old, my family decided to move to Vienna in search of better business opportunities, and quality of life and education. I am so grateful for that because it changed the trajectory of my life. From 1997-2000 I attended the American International School Vienna. It took some adjusting to culture, language and a new learning environment, but I absolutely loved the international education system because of its comprehensive approach to education that taught me to be more active and engaged. Through support and guidance from an amazing teacher I fell in love with psychology and decided to pursue it further. The intersection of psychology and marketing has always interested me, so studying both was a natural choice, and Webster Vienna Private University gave me that opportunity.
What are your fondest memories of Webster?    
I have so many wonderful memories, but I can't believe it's been almost 15 years since I've graduated!
I loved that all my teachers were not just theoreticians but also worked in the field and came to class every day with real-life experience, cases, and advice. Classes were not about learning theory by heart without understanding the real-life implications in business, so when I got my first job, I could apply a great deal of the knowledge I acquired to my everyday work. I was surprised at how useful and interesting classes [I never planned to take] like accounting and International law could be. I actually thoroughly enjoyed them. Having teachers who were working professionals enabled me to do projects with them or intern at companies such as Coca-Cola, Publicis, Lindt & Sprüngli, Montessori kindergarten, Vienna Psychiatric hospital, among others.

However, it was not all about studying. During my first year, I noticed there was something missing so a friend and I created the Student Council that went on to create many events and activities for students.
We opened an on-campus coffee shop and lounge where students could spend some time in-between classes, buy a coffee or a snack, play foosball, and listen to music. In order to keep it open and make it profitable, I managed the lounge and worked there part-time and was given a work scholarship. We made some profit and were able to use the money to organize events and activities like trips, parties, sports tournaments, and movie nights. We were also in charge of planning and organizing galas, graduation balls, and faculty and student elections. It was important for me to incorporate some volunteering and social service activities and fundraisers, so a few times a year we brought a group of students together and helped out organizations such as Habitat for Humanity, Amnesty International, SOS children's village, Food banks, and others.

My goal was to make university life more comprehensive and fun and bring students together to create memories. I was very honored to be recognized for my work and to receive a Leadership award from the Webster University Saint Louis Alumni Association. Being invited to speak at my graduation was the perfect ending. All this made my university experience complete and I am so grateful to have had such valuable and memorable experiences during my time at Webster.
Are you still in touch with other Alumni?
Webster has a very international student body – collaborating with people from many different cultures and backgrounds really broadened my horizons and my appreciation of other cultures. I made some lifelong friends there. Even though we all have busy lives in different parts of the world, we catch up over social media, support each other's work, and meet up when we happen to be in the same city at the same time.
What advice would you give to current students of Webster Vienna?
Don't make student life all about getting good grades - try to become a part of the community and have fun! It always made me sad to see students go through university focusing only on studying, or those doing the bare minimum and spending every free minute traveling back to their home country because they were missing out on so much. Those 3-4 years should not only be "a necessary evil" but be inspiring, fun, explorational, networking, and door-opening - a springboard for the rest of your life. YOU are the creator of that experience.
If you want something done, don't wait for others to do it, do it yourself. Whether it's new classes, better equipment, internship opportunities, events, parties, sports, trips, or humanitarian work - you can make it happen! Sometimes it will take time and effort, but very often you'll be surprised by how easy it is.
Take a wide array of classes including those you are not extremely interested in, but think could be useful one day. They probably will be.
Get a few internships - it will make your classes so much more relevant and useful, and you'll get a better understanding of what kind of company you want to work for after you graduate.
Connect with as many other students as possible and stay in touch. You never know where life will take you and who could be a great contact to have, whether personal or for business.
Travel. No matter how stressed or busy you are now, you'll have a lot less time to travel when you start working.
 
What inspired you to start Pixhug?
I always believed we all have an innate instinct for compassion and a desire to help those in need and to contribute to the well-being of our society and planet. Unfortunately, we often lack time or money needed to contribute, or we are just too busy, so we end up doing nothing. At the same time, social media has become a big part of our lives, and we always seem to find time for it. Every day we share over 2 billion photos and generate over 7 billion likes, so my partner and I decided it was time to add purpose to this daily activity and use the power of social media for good.

We started Pixhug with a simple question: Can social media have a social purpose? Can we empower people to become philanthropists by just sharing a photo, and if a photo is "worth a thousand words," can it also be worth a thousand trees, meals or vaccines? The answer is 'yes.'
With Pixhug, we bring awareness to global issues and causes that need our attention, while bringing visibility to companies that contribute to those causes. (Companies in North America donate more than $20 billion to causes each year!)
How it works: Charities create campaigns to promote their cause and raise money, and their sponsors pledge a donation amount. Users choose campaigns they love and post photos to support them. For every like they receive for that photo on Pixhug or Facebook, the sponsor donates 10 cents to the campaign, while the campaign and sponsor are promoted with every photo. Once the campaign reaches its goal, the sponsor donates the money to the charity.
We wanted to give every single person with a computer or smartphone the power to make a difference, and turn everyone into a philanthropist contributing to global good.
You grew up and studied in Vienna and now you live in Canada, what do you miss about Europe?
I always loved to travel, and that's something my jobs allowed me to enjoy. While I was at Mercedes-Benz I traveled all over Europe and parts of the US. After 8 years of hard work, I decided it was time for new experiences, so I spent a year traveling through North America.  After living in five countries on two different continents, I absolutely fell in love with Canada and felt at home like never before. I love the breathtaking nature and the kindness and friendliness of the people. Having grown up in Rijeka, Croatia, a rainy city between the sea and the mountains, Vancouver felt familiar. It felt like home.
I still love traveling to Europe or spending summer vacation exploring Croatian islands – there's nothing quite like the Adriatic Sea. I miss the history, the architecture, Christmas markets, and the ability to hop on a plane for an hour and experience a completely different culture in just a short weekend.
What is the best advice you have ever received?
Most good advice I've received came from my parents. They taught me to work hard, be tenacious, compassionate, frugal, never give up, and always keep learning. Without following all of that advice, I would not be where I am today.
News by Topic
Tag Categories
News by Topic
Tag Categories